In today's typical family home, bathrooms account for over 60 percent of indoor water use, and showers turn out to be the third-largest source of water waste. Since trimming the family shower schedule is pretty much impossible, a great way to keep from getting soaked by water bills is to install one of the water saving shower heads now on the market.
This new generation of water saving shower heads deliver great performance and comfort while saving up to 40 percent more water than traditional 2.5 gallons-per-minute models. And for a busy family of four, that can run into an overall savings of 8,000 gallons of water per year.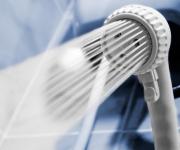 No worries about a lackluster shower experience, either, thanks to smart features that make saving water a pleasure. American Standard's
FloWise water saving shower heads
, for example, have patented turbine technology to spin water into a powerful, energizing spray that feels as great as a standard model while using less water.
For maximum savings, look for water saving shower heads with the Department of Energy's WaterSense. WaterSense is your assurance that the showerhead meets strength standards for water efficiency. You can also combine WaterSense water saving shower heads with other green bath fixtures for even more monthly savings. Visit the
WaterSense website
for shopping options and amazingly easy ways to conserve in comfort.
Vacations homes don't always have to be expensive. Modular vacation homes and even yurts can be built inexpensively and serve as an enjoyable vacation home getaway.