Does your bathroom need a new look? You don't have to overhaul the entire space to freshen things up. Instead, set your sights on smaller touches. Often considered the "jewelry" of the bath, faucets, accessories and decorative hardware are similar to jewelry in that trends in finishes are always evolving. Today, it's warmed-up cool tones such as nickel and bronze. As styles change, these are easy elements to replace in bathroom.
Ideally, they are only replaced for style reasons, and not for performance. Bathroom sink faucets at moderate price points should last for years, with today's better-protected finishes and drip-free valving.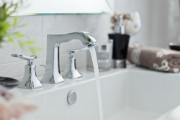 Low-maintenance faucets can include brass or chrome, as well as old-world looking finishes like brushed nickel or antique finishes that are applied using PVD (Physical Vapor Disposition) technology. The PVD process provides a durable, scratch-resistant coating from an electrostatic application of extremely thin but extremely dense coatings of exotic metal alloys such as titanium nitride. No matter how protected your new finish, however, be gentle with your faucets if your want them to keep looking great. Matte finishes do a great job of hiding fingerprints.
If you've shopped for faucets and found two that looked almost alike, but had a wide variance in price, they probably have different engineering and valving technology. Seamless, one-piece cast-brass bodies are easier to clean. It's definitely worthwhile to invest in faucets that have ceramic disc valving, because that's the gold standard in drip-free performance.
Bathroom faucets come in all kinds of configurations: deck-mounted (meaning mounted on the countertop), wall-mounted, and sink-mounted. They come in single-control and two-handle styles. Avoid a tiny faucet on a big, bold sink, and vice-versa. Remember the jewelry idea: no delicate pearls on bold patterns!
If you're happy with the look of your old faucet, you might not be happy with how quickly your money goes down the drain. Slow the flow of utility dollars by installing a water faucet aerator on your bathroom sink. Some older faucets out there may still be running at a rate of four gallons per minute when fully opened, but by simply replacing the existing aerator with a low-flow unit, you can cut the volume back to 2.5 gallons per minute ─ that's a 40 percent reduction.
Small changes can have a big impact, and that's as true in the bathroom as in any room of the home. So if you're looking for easy style upgrades, updating your bathroom's faucet, accessories and hardware is the way to go.