Gone are the days when grout was merely a functional item used to keep tiles in place. Today's grout has evolved to become a fashion statement that encourages self-expression within the home.
While white, gray and beige have been the traditional go-to colors for grout, colored grout is gaining in popularity. Available in in a broad spectrum of hues – from neutrals to pastels to bright chromatic hues and metallic looks – colored grout enables designers and homeowners to bring tile work to life in unexpected and eye-catching ways.
Following are some ways to use colored grout to take your tile project to the next level.
Add a Pop of Color to Neutral Hued Tiles


Neutral tiles don't have to mean neutral grout. Create visual interest by choosing a colored grout in shades of blue such as teal and powder blue. Blue shades complement grays and beiges and add just the right amount of color without overwhelming a space.
Turn Up the Contrast with Bold Brights


Looking for a bit more dramatic tile installation? Considered pairing dark tiles with orange or red grout. The brightness of the grout will delineate the tiles, creating a dimensional look. For a more subtle, but still dynamic look, pair orange or red grout with white tiles.
Bring on the Shimmer with Metallic Grout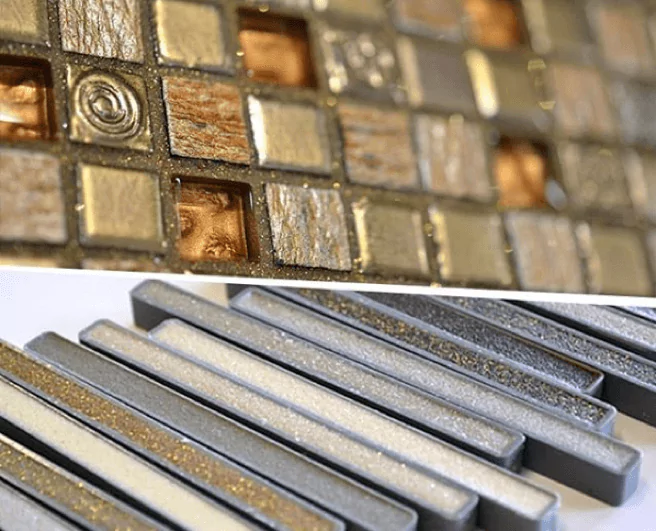 Whether you're working with ceramic tiles or glass tiles, opting to use metallic grouts can elevate any tile project. Available in shades of gold, bronze, silver and pewter, metallic grout imparts a sophisticated look that complements mosaics, backsplashes, and even walls or shower surrounds.
Create Sparkle with Jewel-like Grout

The perfect adornment for fine glass tiles, jewel-inspired grout is designed to resemble precious and semi-precious jewels. The grout comes in a range of inviting hues – think Amethyst, Jade, Peridot, Ruby, Sapphire and Tanzanite to name just a few – and will transform any tile installation from ordinary to stunning.
Achieve the Ultimate Opulence with Diamond Grout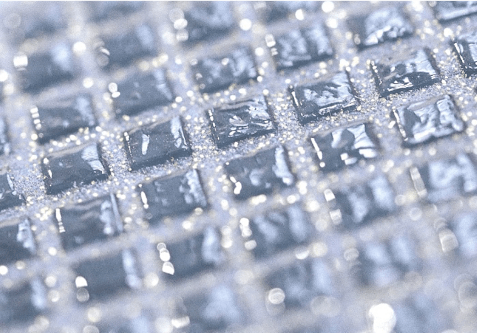 A recently introduced diamond-based grout can literally enable you to 'shower yourself with diamonds' while taking a shower. The grout consists of a mix of fine diamond aggregate along with authentic diamonds in various shapes that – when applied to glass tiles – creates a multi-dimensional effect that refracts light for a dramatic appearance.
Regrout for an Easy Tile Refresh
Tile, when installed properly, is rarely replaced due to performance issues or because the tile surface is wearing out. In fact, on average, tile remains in place about 17 years before it is replaced. Homeowners typically decide to change out their tile when they are renovating their home or have decided it's time for a new look.
However, it's not necessary to completely replace the tile to create a different aesthetic. In fact, with new grouting options, it possible to take an existing tile installation with white or beige grout and – in a few short hours – regrout it with colored or metallic grout, turning it into a fashion statement.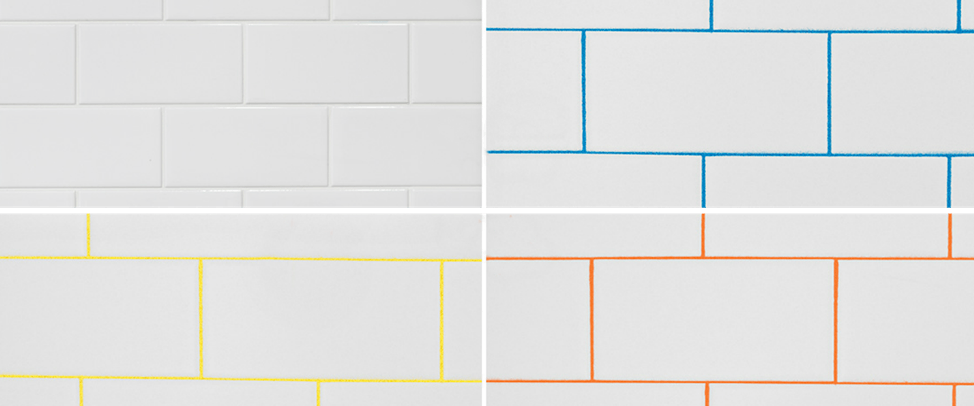 Considerations When Selecting Grout
Cement Grout. The two most popular types of grout are cement grout and epoxy grout. While cement grout is frequently used in tile work and effectively keeps tile in place, it is naturally porous, making it prone to accumulation of dirt and stains. In addition, if the grout is not regularly cleaned, mold and mildew can become embedded in the grout.
Epoxy Grout. Epoxy grout has a reputation for being more challenging to work with than cement grout. However, recent advances in epoxy grout formulations have made it much easier to work with. Because epoxy grout is non-porous and water-repellant, it is highly resistant to stains and discoloration and doesn't allow mold or mildew to grow. In addition, epoxy grout naturally expands and contracts, significantly reducing the opportunity for cracks to develop. For these reasons, it is typically more durable and longer lasting than cement grout.
In addition, some of the newest epoxy grout products are free of toxins and safe for installers, homeowners, pets and the environment.
A Whole New World of Possibilities
Designer grout is available in more than 150 colors and finishes, providing virtually unlimited design options. Whether used for a new tile backsplash or shower surround, or to re-grout an existing tile area, this "fashion" grout can offer a stylish alternative to traditional tile installations.
For more information on designer grout products, visit The Tile Doctor.