Q & A
I have a relatively new dryer that's vented outside. My problem is that it lets a lot of lint and hair to bypass the dryer's lint filter and exhaust outside. The vent is short, as the dryer sits against an outside wall, but it pops out of the exterior wall about one foot above our deck so all that hair and lint makes a huge mess.
I thought about putting some type of extension on the vent to direct the vent underneath the deck, but the problem is that I have a basement bedroom window right under it.  So, I'm kind of stuck. If I direct the vent down I am afraid the lint/hair will make a mess of the window/screen or collect all over the underside of the deck. If I extend the vent sideways to clear the deck, I would need to use a sharp 90-degree bend and run it about 8 feet to clear the deck.
Is there any way to have some type of secondary trap outside to capture and control the lint.
Oh, and with three girls we do A LOT of laundry!
Bessy
Our Answer
First off, the fact that your dryer is being vented so efficiently is actually a good thing. Thousands of home fires result from duct clogging. Getting that lint out of the house efficiently is very important.
The idea of a 90-degree bend seems to make the most sense, considering there's such a short distance between your dryer and duct. You probably have enough air pressure to push the lint through one 90-degree bend and out. I wouldn't add more bends than that, though. Adding a 90-degree curve is equivalent to adding twenty feet of straight duct in terms of the resistance needed to push lint through it.
Lint Traps 101
All clothes dryers — whether solely electric dryers or gas dryers — generate heat via a heating element which is transferred to the air in the drum. This hot air is forced throughout the dryer by a fan or blower. Naturally, with this dynamic blowing of air, particles of lint are bound to come loose from your sweaters and jeans. But where does all that dryer lint go?
The moist air is forced through the dryer's lint filter and out the back of the dryer. That's why a dryer duct that should be vented to the outside of the home. This exterior vent is crucial, since you can't expel the water-laden air back into your laundry room.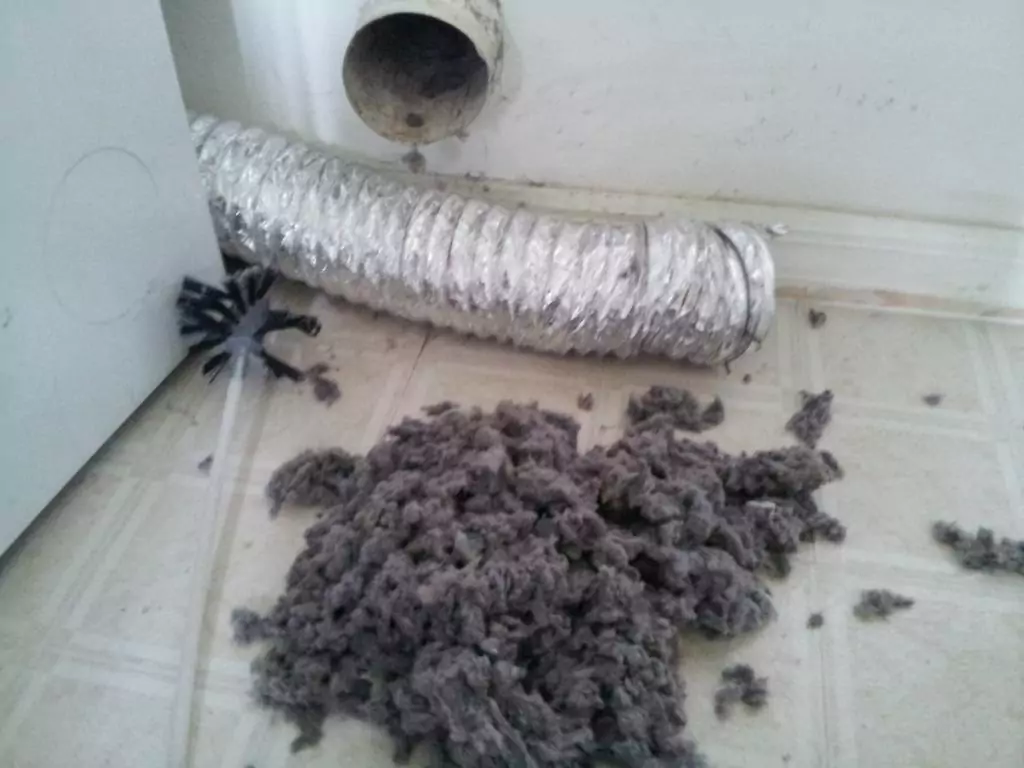 Best Way to Install a Dryer Vent
When installing a dryer, it's important to ensure your dryer vent ductwork is not only appropriately fitted, but also made of the best materials. Installing the vent behind the machine is best. The key is to this without crushing the vent, and with as few bends and turns as possible. Each 90-degree bend in that dryer duct provides the same resistance as 20 additional feet of duct run, so the fewer twists and turns, the better. This is because If the vent hose is too long or scrunched up, the dryer has to work double time to vent the moisture. This causes the dryer to use more energy and causes more wear and tear to the machine itself.
This can also impact drying time. An ineffectively installed vent pipe can result in having to run the drying cycle twice, sometimes 3 times to get the clothes fully dry. This not only is aggravating, but also racks up your energy bill
If your dryer vent system is made of plastic or vinyl tubing, consider replacing it with metal duct material, which is sturdier and easier to clean.
How to
Stop Dryer Lint Blowing Outside
If you notice some rogue lint flying around outside, don't take it as a sign that you need dryer repair — it could actually mean that your dryer vent system is working very effectively. It might also be a warning sign that your exhaust vent needs cleaning.
Check your exterior vent hood for lint buildup. If the vent cover is caked in lint, use a vacuum to suck up exterior buildup, or add an exterior lint trap as shown below. Just be sure to periodically remove and empty the exterior lint screen to prevent a build up and potentially unsafe blockages of the vent.
In addition, you could also add a secondary lint trap, which mounts between the dryer's lint screen and the dryer exhaust and captures any lint that makes it past that initial lint screen.
Keeping the dryer duct clean and free of lint by adding a secondary lint trap between the dryer and the exterior dryer vent.
Capture lint from outside dryer vents with the ingenious attachment and stop lint from "raining" down on your porch, siding, patio or deck!
Lint Buildup and Fire Risks
All standard clothes dryers have a built in lint catcher. The buildup in these lint screens is highly flammable. It's crucial to remove the lint screen and clean off all the material buildup to avoid a massive fire risk. According to the U.S. Fire Administration, "2,900 home clothes dryer fires are reported each year and cause an estimated 5 deaths, 100 injuries, and $35 million in property loss". Even if you do clean the lint filter after every load of laundry, your dryer vent needs to be cleaned annually.
Dryer fires can also be caused by buildup in the ductwork. USFA also reports that "failure to clean the dryer (34 percent) is the leading cause of home clothes dryer fires". Cleaning your dryer lint trap buildup and performing dryer vent cleaning annually is a great first step to avoiding a fire hazard and ensuring your family's safety.
This amazing tool effectively removes dangerous lint buildup in almost every type of dryer vent, eliminating a leading cause of house fires; Rotating action of the auger brush and flexible rods clean your entire vent from inside and out!
This is easier than it seems. A few companies make cleaning kits for dryer vents, like Gardus' LintEater. It's made of flexible piping that links together with a big brush on the end. Used with an electric drill, it spins to easily collect and clear buildup. It snakes its way through your dryer venting system and will get rid of all of those dangerous lint bunnies lurking in the dryer vent.
Take caution when using DIY methods, such as nylon stockings on the dryer vent — this approach is bad as it blocks the vent, leading to another type of fire hazard.
Bottom Line: having proper venting for your clothes dryer is not only important for the safety of your home, but also can save you money. Performing annual maintenance on your wall vents and ducting is just as important as any other home maintenance project.