This spring and summer, thousands of homeowners will perform the necessary maintenance for their wood decks. They'll strip, sand and stain their decking and railing to help revive the looks and preserve the structural integrity of the deck.

For Will Spivey, a homeowner in western North Carolina, the summer of 2009 ended all of that.

"That spring, as soon as it was warm enough to grill, I took a serious look at the state of my deck," Will said. His wife, Kim, had pointed out a few problem spots. "As I stood grilling, I realized many areas were far beyond repair – I would need to replace the deck and the railing."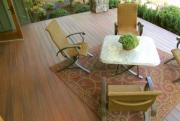 Their 10-year old pressure-treated wood deck had significant warping, splitting and rot in key areas of the decking floor and railing. The Spivey's knew that to continue using their precious outdoor living space would require an investment in quality, durable materials and they began to investigate composite decking options.
"As I explored composite decking, I was focused on the way it would look," said Kim. "Here was the chance to select a product the same way I had picked carpet and tile for inside my home. I wanted something that looked solid and upscale."

For Will, the important factors went beyond aesthetics to performance. He needed to know that their choice was going to look good and live up to their idea of low maintenance and really last.
"The last thing I wanted was to replace my deck in another 10 years," Will said. "I understood the notion of cost over time and that while my investment in composite decking was greater than wood up front, the payoff in replacement and maintenance costs down the road make it more than worthwhile."

The couple selected Fiberon Horizon™ composite decking in Ipe, one of the two new colors with the rich beauty of tropical hardwoods. Horizon carries the industry's only 10-year stain and fade warranty and its superior PermaTech™ surface technology protects against scratching, molding, splinters and decay in addition to staining and fading.
Fiberon's complementary Horizon Plus™ deck railing was selected by the couple in Almond to match the off-white trim on their brick home.

Will and Kim were beyond impressed with the results of their new composite decking. "It looks so amazing," said Kim. Will added that he could not believe a deck this beautiful had reduced his annual maintenance "to a mere spray-down twice a year".

For more information about Horizon composite decking, Horizon Plus railing and other Fiberon products, visit www.fiberondecking.com.