Choosing historical paint colors can be a trip back in time to discover what the colors of the past actually looked like. The somber and muted tones which appear when layers of paint — altered by time, sunlight and weather — are scraped away from old surfaces isn't a fair example of what came before, and new research techniques now show that these faded hues were once surprisingly flamboyant.
But while you might not be quite ready to embrace the salmon pink that was popular in New England in the 19th century, it's never been easier to use historical paint colors to evoke a connection to the past.
Whether you're repainting a home built in the Colonial or Federal period, or choosing paint colors suited to the Greek Revival, Victorian or Queen Anne eras for your new dwelling, you may prefer to paint your house in historically appropriate, rather than historically accurate, colors.
Historical paint color collections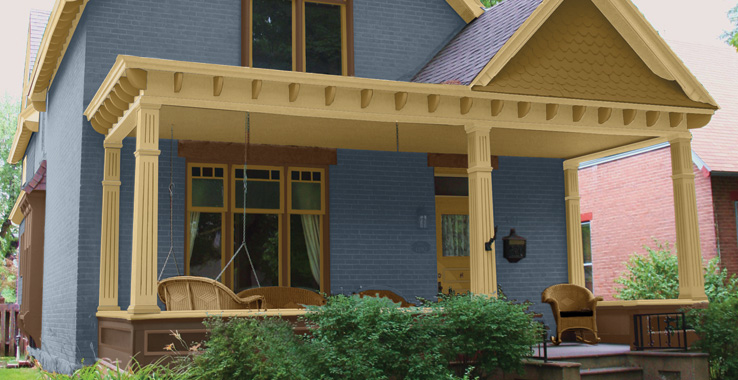 One of the first collections of ready-mixed historical color paint was introduced by Benjamin Moore in time for the American Bicentennial in 1976. Since then, their Historical Colors collection has evolved to keep up with the times, but eight of the original colors are still offered.
According to Barbara Mayer, color archivist for Benjamin Moore, sources for some of the original colors (48 interior colors and 30 exterior colors) were the 18th and 19th century buildings administered by the U.S. National Park Service's office in Philadelphia, including Constitution Hall, and some historical houses and sites in other parts of the country. These colors were obtained by stripping down through multiple layers of paint and then matching with Munsell designations–a graduated scale that ensures each color has a logical relationship to all other colors.
If historical accuracy is what you're shooting for, a bit of research about the era your house is from, or is trying to look like it's from, will go a long way toward helping you choose historical colors that can be matched to many readily available, cost-effective, off-the-shelf paints.
While standardized ready-mixed paints were not commercially available until the 1800s, architectural color cards were featured as early as the 1840s, according to John Crosby Freeman, color consultant for Valspar paints.
"The introduction of standardized colors went hand-in-hand with the polychromatic colors of the late Victorian era," he says. "Not only could homeowners purchase and apply their own paint, but they could also choose from a palette of increasingly sophisticated colors."
But does every historic house demand historical paint colors? Freeman believes it is easier on the eye to use a historically appropriate color scheme. After all, some of the tones wildly popular in the Victorian era might just look wild today. With paint manufacturers such as Benjamin Moore, Valspar and California Paints offering well-researched period palettes to choose from, there are two touchstones which will help you easily achieve an historical look.
3 tips for picking paint colors
First, historical colors should emulate or evoke local organic materials. Reds and browns work well in New England because these are the colors of that area's earth and rocks. Similarly, in the sunny South, yellows and oranges do not look out of place.
Second, the colors should at least have a relationship to the era you are summoning up. Until the 1900s, many paints were based on organic pigments. Colors including mauves and maroons were just not possible until the late industrial revolution brought forth synthetic pigments.
Lastly, be aware that if you live in a locally designated historic district, the local paint police (sometimes better known as the Historic Architecture Review Board) may limit your selection. To avoid their wrath, check with your local board or building official before you even look at color charts.
Historical paint colors by year
There are five easily identifiable periods of American architecture which respond well to historical paint color choices. Find your house style below and use this guide as a starting point for researching your painting project.
Colonial paint colors (mid-1600s to 1780)
The early colonists arriving the New World from Europe brought with them the prevailing architectural styles and building practices of their native countries. Original Colonial-style homes were built primarily along the East Coast, Gulf Coast and portions of the Southwest. The most characteristic Colonial house is usually a one or two-story house which is two rooms deep with symmetrical windows. Earthy reds, indigos, ochre and burnt umber were popular and these organic pigments were easy to transform into oil-based paints.
Federal paint colors (1780 to 1830)
The Federal style was the dominant style of the new Republic and was mostly concentrated in prosperous port cities of the East Coast including Boston, New York, Philadelphia and Savannah. This style is characterized by symmetry, lightness and delicacy. The houses may be box-like with sidelights and fanlights surrounding the front door. Creams, pumpkins, sage greens and muted blues characterized the style.
Greek Revival paint colors (1825 to 1855)
This period began and ended with the public buildings constructed in Philadelphia and Washington, DC, and the full-colonnaded mansions of the southern states. The classic temple form has a portico across the front. Made from wood, these buildings are invariably painted white. Accent colors were rarely used but could include black, dark greens and gold.
Victorian paint colors (1840 to 1900)
This era coincided with the reign of Britain's Queen Victoria. Mechanized saws and lathes led to a profusion of wooden ornamentation. Multicolored walls, asymmetrical detailing and steeply pitched roofs are common features. Wooden lacework, patterned shingles, conical turrets and decorative brackets completed the look. Dark mulberries, gingers, moss greens, brick reds and buffs were used in decoration.
Colonial Revival paint colors (1900 to 1940)
Early examples of this style were rarely historically correct copies, but are eclectic interpretations inspired by Colonial-style precedents. Features commonly associated with the revival period are a balanced facade, front doorways with sidelights, multi-paned windows and gabled roofs. Mid-blues, grays and taupes define the style's palette.
To help you choose, Historic New England offers a color chart featuring a palette of historically accurate interior and exterior paint colors for each of the above historical periods.