A furry friend can make life seem complete. As much as you love having your dog around you, you can't deny that you have to take extra care on keeping the house clean. Dogs shed their hair and their claws can wreak havoc on the floors. You also need to consider the numerous pet accidents that await you no matter how well you house train your dog.
As such, it is important to consider your flooring options carefully. You want something that's not only going to be easy to clean but will last as well. Definitely, carpets are a no-no.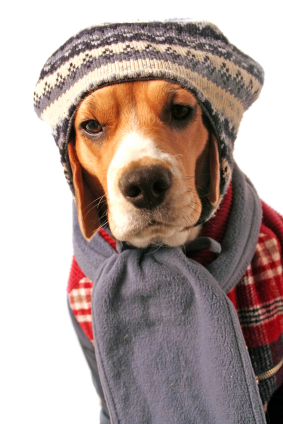 Here are some popular flooring options that you will come across and the pros and cons of each so you can choose what's best for you and your pooch.
Hardwood
Known for its classic look, hardwood flooring can add a unique touch to your home. Being stylish, it is an ideal option for your living room. There are various types of hardwood available in the market and the cost varies depending on the material. If you are on budget, opt for engineered wood panels as they are relatively cheaper.
Pros: It looks pristine and can up the resale value of your house. Besides, hardwood flooring is easy to maintain; sweeping or vacuuming alone can do the job. Hardwood is also hypoallergenic.
Cons:Hardwood comes costly and you'll also need to spend hundreds and thousands of dollars on getting it installed. Another drawback is that it is loud to walk on. For high-traffic areas, hardwood is not good option as it is occasionally need refinishing. In addition, real hardwood is easily damaged by standing water.
For homes with pets, hardwood is a bad choice. Pet urine can leave stains and odors on the floor. Even if you clean up after a pet accident immediately, urine can seep into the hardwood. Water spills from your dog's water bowl can also damage the flooring. Lastly, if you don't spend time on dog grooming activities like trimming your furry pal's nails, your hardwood floor will be scratched and marred in no time.
Cork
While cork may not be the best choice of flooring for the entire house, when installed in specific locations, it can be just the perfect addition.
Pros:Cork feels soft and acts as a cushion to provide some protection against falls. As such, it's great for kids, elderly folk, and pets. Cork also has insulating and anti-microbial properties. It is hypoallergenic and eco-friendly.
Cons:Cork will scratch and show signs of wear and tear. Pet claws can damage the floor too, even if you keep nails trimmed. Water and direct sunlight can damage cork causing it to curl or plump and discolor.
Laminate
This synthetic flooring material is inexpensive and widely used by homeowners. The design of laminate flooring generally imitates wood and it is sold in plank or tile form. It is durable and as such, you can safely opt for laminate for high traffic areas like your foyer. Installing laminate is easy, so you can DIY and save on labor costs.
Pros: Laminate floors look exactly like tile or real wood and are easy to clean. However, the best thing about laminate flooring materials is that they do not easily scratch. As such, laminate flooring is great for a home with pets. If you do see scratches, apply a little vegetable oil to the scratch and rub it gently to see it disappear. Laminates do not stain either.
Cons: Unlike hardwood, you cannot refinish laminate so you'll have to replace the entire flooring if it gets severely damaged.
Smooth, high gloss laminates can be difficult for dogs to walk on as they can slip easily. Such floors also cause their hips to move in an unnatural way which may cause greater problems in the long run. If you do choose laminate flooring, go for laminates with a textured or embossed finish.
Linoleum
A synthetic material, linoleum is popularly known as 'lino' and is a cheerful flooring option for areas like the bathroom and the kitchen.
Pros: Linoleumis inexpensive and water-resistant, which makes it a popular option for areas that are prone to moisture. Moreover, linoleum is easy to clean and is available in countless designs. Look for good quality linoleum that has a scratch-resistant layer to minimize damage done by pets.
Cons: Compared to laminate, lino gives an artificial look and feel. Another major drawback is that the heavy duty glue used to secure this flooring material often damages the under surface and this may devalue your property.
As linoleum is laid out in one large sheet, you'll need to replace the entire flooring even if a part of it is damaged.
Tiles
Tiles are the most popular of flooring choices as there are a variety of them to suit individual tastes, styles, and budget. Marble, travertine, granite, slate, porcelain, etc. are preferred as tiles by many people. Tiles are durable, and most resistant to scratches, dents and dings. They are also water-resistant.
Pros:Whether you go for stone tiles such as granite, marble, or slate, or ceramic tiles, you can relax in knowing that your pooch won't be able to scratch the floors. Pet accidents won't leave behind odors or stains either.
Cons: Though tiles are be cleaned easily, you must also clean the grout- which may require professional help. Soft stone tiles such as marble, travertine, and slate may require more maintenance than granite. Tiles are hard and uncomfortable for pets to lie on. You can use area rugs to make your pooch comfortable.
Conclusion
Now that you know what to expect from these popular flooring choices, you'll have no problem in making the right decision. Have fun refurbishing your home!