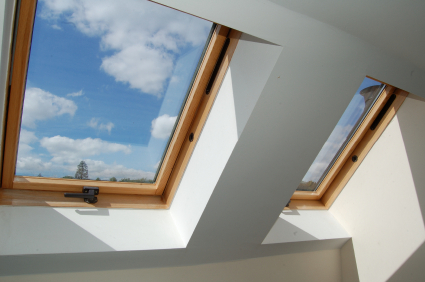 What can you add to your home to help make it seem more spacious, save you money and possibly help your health? A skylight! Skylights open rooms up to natural light, make small spaces seem larger and create energy efficient possibilities that may help lower your utility bills. Plus, it will take away those gloomy blues.
Skylights really can help your home seem much more spacious because you're adding in so much more light, which makes things feel super roomy. They can also save you energy dollars when you're using the sun to keep your rooms warm, and they can cheer you up, especially in the winter when daylight is limited.
If your skylight is not installed correctly however, you could end up with costly water damage. Attention to detail is key to prevent leaks. If this isn't a project you feel comfortable taking on yourself, a pro can usually get the job done inside of a day.
I should also mention that there's another type of skylight called a tubular skylight. Basically you only create a small hole in the roof and then you unwind the tube from there down to the ceiling. It's not clear glass that you could look up through but it pulls a lot of light into the room with very, very little disruption of the roof surface.
Either way, adding a little extra light can help fight the dark day blues. Plus, if your skylight is Energy Star rated, it'll help save energy by keeping the heat inside your home in winter and reflect the hot sun in the summer!