If painting is on your to-do list, make sure the project is healthy for you. We can all contribute to the health of our environment by making a more responsible choice to use Zero VOC paint.
VOC stands for volatile organic compounds, which are organic solvents contained in paint and many other substances. In paints, these solvents are released into the atmosphere as the paint dries after application. VOCs emitted by solvents that are found in most paints contribute to the formation of indoor air pollution and ground-level ozone.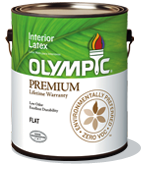 Olympic® Premium Interior Paint in any color is totally Zero VOC, so you can breathe easy and contribute to the health of your home and the environment. Choose from over 1,200 colors in the Olympic Colors of Inspiration palette or custom color match any color. Paint Today. Enjoy Right Away with Olympic Premium Interior Paint.