Building a deck is a great way to create an outdoor living space for relaxing, entertaining and connecting with nature. Composite decking is an increasingly popular option that provides the appearance of real wood while greatly reducing your annual maintenance – saving you time and money. Veranda composite decking, sold exclusively at The Home Depot, provides a high quality, low maintenance, beautiful surface for homeowners to enjoy for years to come.
Veranda is mold and mildew resistant, so clean up is as easy as soap and water. It's also extremely durable, with a 20-year warranty that protects against cracking, splitting, color fade and stain. That saves you money and time on maintenance, so you can spend more time enjoying your deck.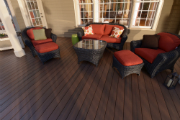 The resistance to color fade and stain is a relatively new development. Until just a few years ago, composite decking was vulnerable to fading and stains, which led to the introduction of capped composite decking. The "cap," or polyethylene layer, added to the outside of the Veranda deck board protects it from color fading and staining. The cap also helps make the deck board much easier to clean.
While costs may seem higher for composite versus natural wood, that cost is offset in as little as five years because it practically eliminates the annual upkeep required for natural wood decks.
Veranda comes in a variety of colors that look like exotic hardwoods, without the environmental impact. All of Veranda's composite decking is manufactured with more than 80 percent recycled wood and polyethylene. Veranda also offers hidden fasteners, which create a completely smooth deck surface that resembles indoor flooring because there are no visible screw heads.
Veranda composite decking is priced at $17.97-$56.97 per board and is available exclusively at The Home Depot. To learn more about this durable, attractive, low-maintenance option for decking, visit www.homedepot.com/veranda.