The official outdoor season is just around the corner, so now's the time to create a space you'll enjoy all summer long. Composite decking makes a beautiful base for an outdoor room, and The Home Depot's two lines of Veranda decking offer design flexibility, resilience and value.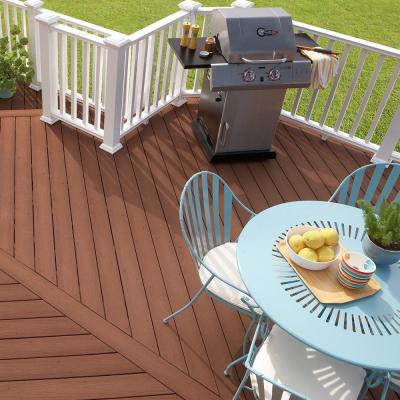 Veranda Traditional decking is available in Gray or Brown, in a choice of 12-foot or 16-foot board lengths. It never needs to be stained or sealed—just an occasional cleaning will do—and Veranda Traditional has a 15-year warranty against cracks, splits, warp and twist.
You can also select Veranda ArmorGuard decking, offered in Nantucket Gray, Seaside Gray, Coastal Cedar and Brazilian Walnut. Veranda ArmorGuard is available in various board lengths, and has grooved edges for hidden fastener attachment. Use Veranda hidden fasteners to properly gap the deck surface and create a sleek, fastener-free look for your outdoor room. Veranda ArmorGuard decking comes with a 20-year warranty against cracking, splitting, warp, twist, stains and color-fade, and can be cleaned with soap and water. There's no staining or sealing, giving you more time to focus on summer entertaining and relaxing.
Complete your Veranda deck with composite railings in matching or complementary colors for a customized, low-maintenance result. Veranda composite decking may cost more than traditional wood decking, but you'll recoup the difference in as little as five years thanks to money saved on stains, sealers and applicators. Veranda decking is available exclusively at The Home Depot. Plan an outdoor space with Veranda by visiting your Home Depot store or www.homedepot.com.