When it comes to home comfort, there is nothing worse than stepping on a cold floor! Whether it's that first step out of bed, into the bathroom or on to the kitchen, cold floors can start off your day on a very uncomfortable note! Fortunately, there are a number of ways you can add heat to those floors and never feel the discomfort of frozen feet again. SunTouch Floor Warming offers a range of systems that can achieve this with affordable, efficient electric radiant floor heating.
What is Radiant Floor Heating?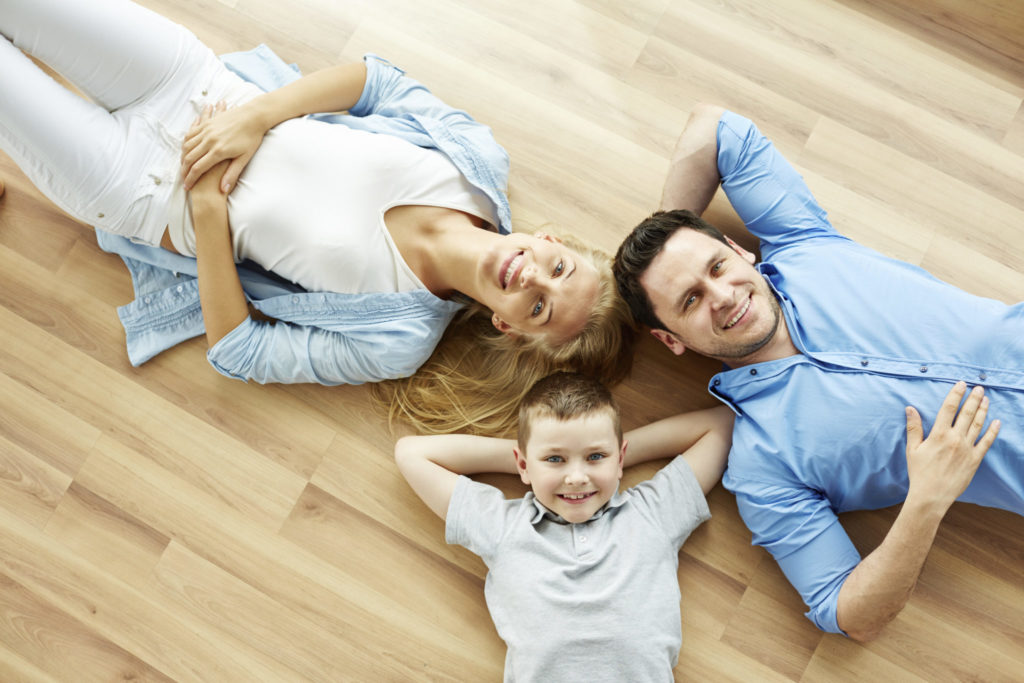 Similar to the warmth you experience from the sun, radiant floor heating systems provide heat directly to the underside of a floor. As the flooring warms up, it also warms the air above it which naturally rises. So, not only does the radiant floor heat remove the sting of a chilly floor, it also raises the temperature of the entire room increasing comfort as it goes.
According to the US Department of Energy, radiant heating offers a number of advantages. It's more efficient than baseboard heating and usually more efficient than forced-air heating because it eliminates duct losses. Plus, those with allergies often prefer radiant heat because it doesn't distribute dust and other allergens like forced air systems can.
Radiant Floor Heating Options
SunTouch has more than 30 years of experience in creating comfortable, warm, safe, inviting spaces with electric radiant heat. They offer several radiant floor heating systems to choose from including TapeMat, WarmWire with HeatMatrix and UnderFloorMat. Choosing the best product for your projects depends on the size of the space you wish to heat, as well as the flooring materials and type of installation.
TapeMat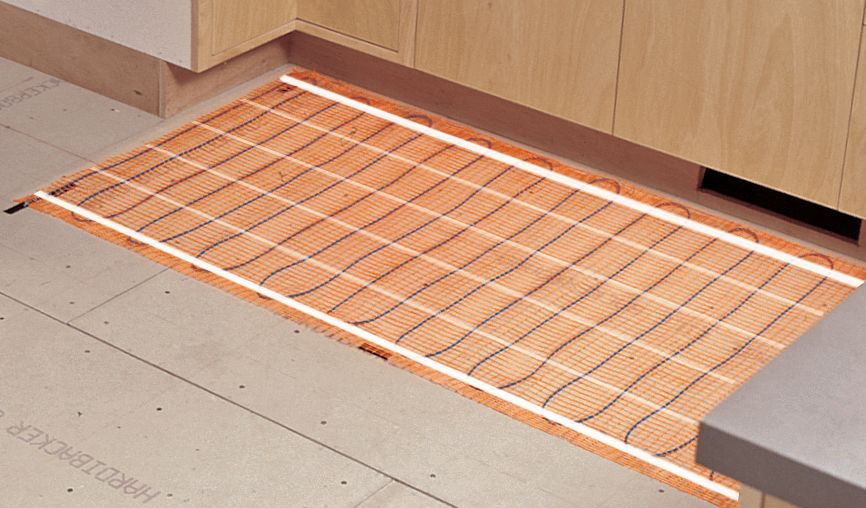 TapeMat® are electric floor warming mats with easy peel-and-stick tape that make installation fast. They're designed for smaller spaces and available in 2 ft. and 3 ft. widths with length options from 5 ft. to 100 ft. Everything you need for a successful install is included within the all-in-one kit. SunTouch also offers a handy TapeMat calculator to help determine how much product is necessary for your room.
WarmWire with HeatMatrix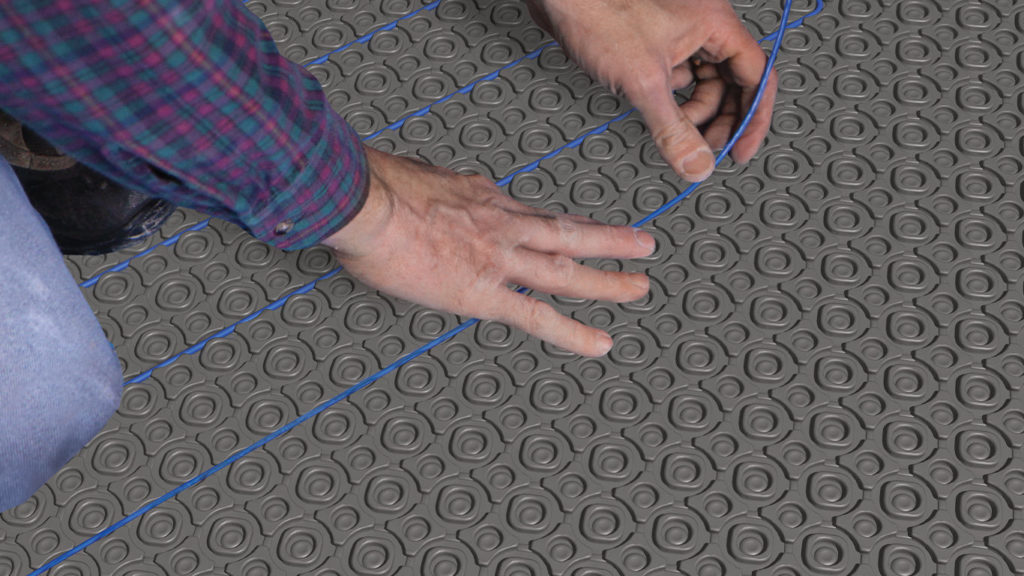 For larger projects, SunTouch offers WarmWire with HeatMatrix, a snap-in floor warming system that is perfect for flexible installations. Designed specifically for larger tile and stone flooring installations, WarmWire combines premium flexible radiant floor heating with an uncoupling membrane that adds a waterproof layer and prevents tile and stone from cracking. Installation is simple, just roll out the HeatMatrix and then press-in the WarmWire heating cables, and add tile or stone as usual. Like TapMat, everything you need for a successful WarmWire install is included within all-in-one kits.
UnderFloorMat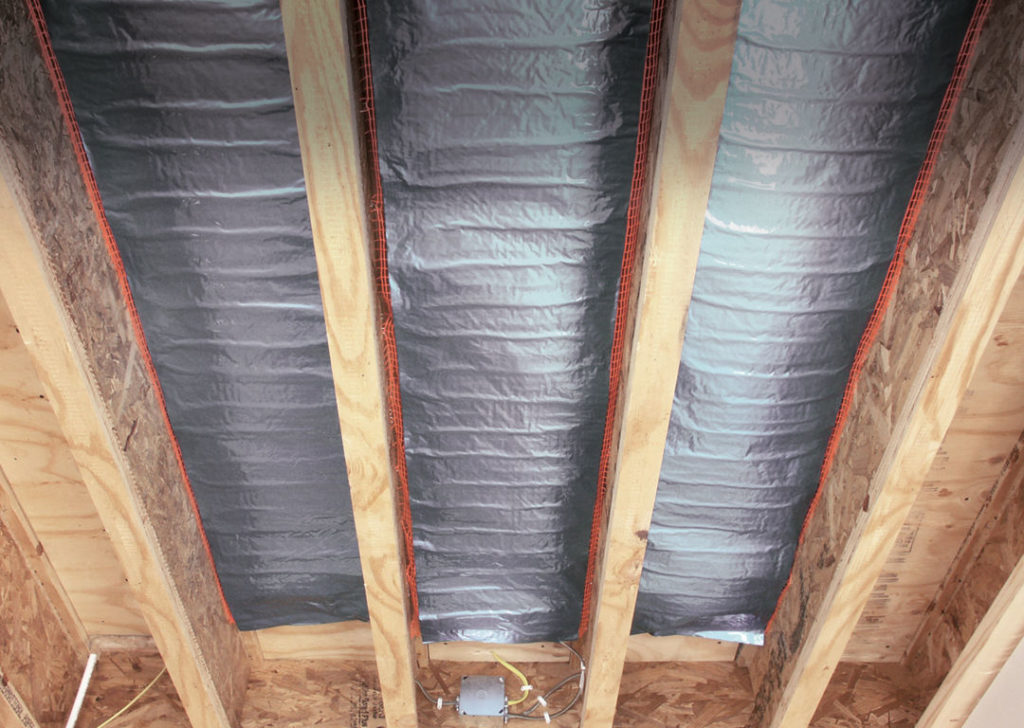 While most radiant floor heating systems need to be installed before the flooring is added, SunTouch also offers a product that can be installed under an existing floor. UnderFloorMat is a complete radiant heating system that's assembled into a foil "radiator" surface. It can be installed between floor joists and insulation above a crawlspace or basement, and provides the warmth and comfort of heated floors without replacing existing flooring.
Cost of Electric Radiant Floor Heat
While you may think electric radiant heat would be costly to operate, it's actually much lower than you'd expect. For example, with TapeMat, typical usage cost is just $2-$3 per month for a 20 sq ft bathroom or $6-$7 per month for a 100 sq ft kitchen.
SunTouch offers a full line of products designed to deliver warm, comfortable floors that you can enjoy for years to come. Review your options at SunTouch.com.