Radiant heating is a popular heating system that can warm up your floor and deliver added heat to a cool space. Radiant heating is a smart system that generates targeted heat from the ground up, and offers energy efficiency, either on its own or in combination with existing home comfort systems.
Like many of the best home design ideas, radiant heating is an approach with a long history. The Romans first used radiant heating to warm up enclosed spaces in their homes around 60 A.D., and architectural luminary Frank Lloyd Wright helped radiant heating reach another plateau of popularity in his 20th Century designs. Improved materials now make the warming technology more reliable and attainable than ever, and worth considering for both new builds and remodels.
How radiant heat works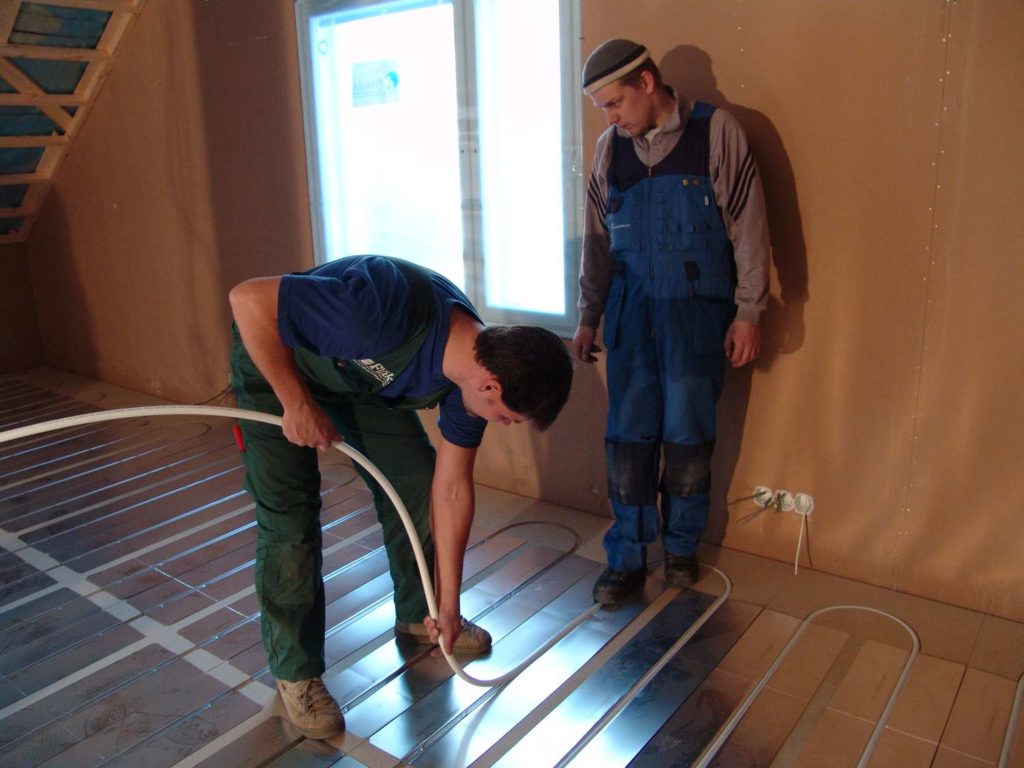 Radiant heating comes in both electric and hydronic forms, with the latter being the most common. In a hydronic radiant heating system, heated water courses through a network of crosslinked polyethylene (PEX) tubing installed in a concrete slab or on top of the subfloor. As the water moves along, it transfers its warmth to the slab, effectively turning it into a large-surface-area radiator that then moves the heat through flooring and into living spaces. Though the water's temperature is relatively low (usually between 90 and 100 degrees), the components of a hydronic radiant heating system make the most of it for sustained, even comfort.
A hydronic radiant heating system is powered by a hot water heater and controlled by a thermostat. Offering design flexibility and zonability, it's a great solution for hard-to-heat areas like basements, bathrooms and attached garages, and works to warm up flooring materials including wood, tile, carpet, natural stone and linoleum.
Places radiant heat can be used
So many smart, affordable radiant heating solutions now exist that it's easy to implement their efficiencies into just about any home. New builds are the best opportunity for installation of a custom-designed, whole-house system, but you can also add radiant heat to an existing home with an aftermarket strategy like Uponor's Quik Trak radiant heating system. With Quik Trak, special half-inch-high wood panels are installed over an existing concrete slab or plywood subfloor, and grooves down the center of each panel hold the water-bearing PEX tubing. Your flooring of choice is then installed over the panels, and Quik Trak is ready to go to work, circulating warmth in the living space.
Other radiant heating applications include installation in walls and even ceilings for added climate control, and systems made to keep walkways and driveways clear of ice and snow in climates where winters are especially harsh.
Efficiency, economy, warm floors and healthy heat
Bring radiant heating into your life, and you'll wonder how you ever got along without it. By creating and keeping warm air close to you instead of spurring its natural tendency to rise uselessly toward the ceiling, room temperatures are maintained, making it possible to either go solo with radiant heating or spend fewer dollars operating an existing heating system. There are no blowers involved in a radiant heating system, so it won't send allergens and other harmful particulates into the air your family breathes.
Radiant heating is also quiet, and opens up surface floor space in the absence of vents and bulky components. Continuing strides in radiant heating technologies are worth keeping an eye on as well, as green-thinking designers and engineers work to develop such solutions as solar thermal water heating that will only add to the efficiency and appeal of radiant heating.