Each year in the United States, more than 200,000 children ages 14 and younger get treated for playground-related injuries. That includes accidents that happen on backyard playgrounds, and the last thing you want in your own yard is a danger zone that can injure neighborhood kids and even get you sued.
Most injuries happen as the result of a fall onto a hard surface, so take steps to improve your backyard play space at the ground level. For equipment that's up to seven feet high, coat the ground underneath with at least nine inches of wood chips, mulch or shredded rubber. If you're going to lay the groundwork with sand or pea gravel, you still need about nine inches for equipment five feet high and up. Mats made of safety-tested rubber or rubber-like materials are also great options underfoot.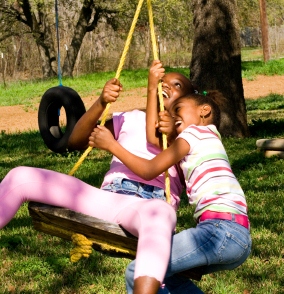 Whatever play space groundcover you choose, make sure it extends six feet in all directions from the perimeter of the play equipment. That way, you'll know that kids will have a soft landing whether they're stepping off a ladder or launching from a rope swing.