You probably never think about it, but when you look at your house from the street, a big part of what you see is roof. And depending on your home's style, that roof could make up 40% of that visual. So if your roof is just plain black, gray or brown, you could be missing a huge opportunity to express your personal style. After all, the exterior of a home tells a story about its owners. And nowadays, roofing material colors extend far beyond the somber hues we're used to, allowing for freedom to draw from different shades from other areas of the home, like siding, shutters and trim.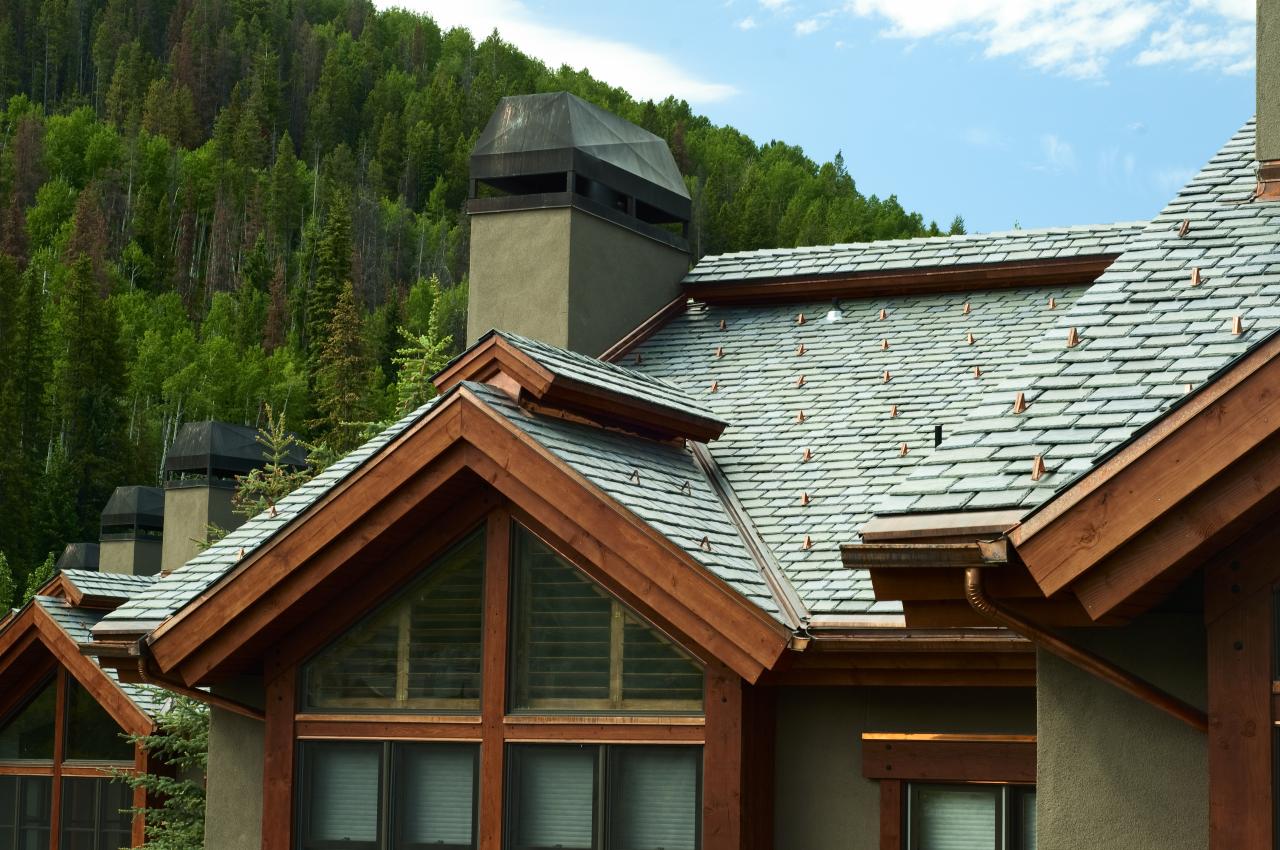 Kate Smith is a color expert who is lending her expertise to the Color Design Program for DaVinci Roofscapes, manufacturer of synthetic slate and shake roofing. Says Smith, "When you select blends with different shades of a color or two in it, the entire roof seems to merge and unify the home exterior. This softens the roof visually and provides the homeowner with more long-term options for accent colors to 'pull out' from the roofing blend color."
When choosing a roof color to suit your particular home's style, Smith recommends the following guidelines:
GREEN. Green roofs look best with homes that have natural wood siding, or are painted gray, white or a lighter green color than the roof itself. Avoid red or colors that are very "warm" for the siding, although these bright colors could be used as an accent, such as for a front door.
BROWN. Brown roofs complement houses painted in tan, yellow, cream, off-white or a different shade of brown. Brick homes that have a yellow or brownish color cast to the bricks can also look good with a brown roof. Stay away from using a brown roof if you have a home with "cool" colors on the main body, such as blues and grays.
BLACK. Black roofs provide an anchor for tall homes by helping visually lower the roof and making the home look wider in contrast to the siding color and trim. A black roof has a strong link to homes painted in gray, blue, green or white … and can also be used with a brick exterior. Try to avoid a black roof if you have a single story or smaller home, because the black can seem too weighty for a smaller structure.
GRAY. Gray roofs are an ideal complement to more traditional style homes and can also be used on blue, green, black or white house colors. Bolder accent colors for trim, shutters or the entryway door can broaden the visual appeal of the home with a gray roof.
TERRACOTTA. Terracotta color roofs work exceptionally well with stucco and brick homes, along with stone and those houses with a mixture of exterior materials. White is classic color to use with a terracotta roof. The high contrast between the body and roof colors looks crisp and clean together, and is often a choice for warmer climates.
RED. Red roofs match up beautifully to accent gray or warm brown house colors. Consider a red roof for a white or cream exterior to create a country look for a home.
If you're going to select new roofing materials, remember to consider how color will impact the curb appeal of your home. Take the opportunity to choose a roof color that will express your personal sense of style.