In this high-tech age of better, faster and new, owning and improving an old house can be a pretty isolating experience. While your buddy brags about his super-spa master bath remodel, you're wondering how much longer your powder room's plumbing will hold out.
On the flip side, 21st century technologies are making old house restoration easier than ever before by connecting you with the resources, advice and moral support you need. Do a little excavation, and you'll come up with solutions to make your older home as comfortable as any new build.
Get acquainted with local historical preservation societies: Dedicated to the preservation and historical storytelling that strengthens connections to the past, these entities can be a helpful in learning more about improving your older home and locating project resources. Thousands exist at both the state and city level, often with specialized focuses ranging from architecture to cultural subjects.
If you happen to live in a designated historic area with guidelines for preservation and period-correctness, they'll also be directly involved in your future remodeling and renovation plans. Find out how to reach societies in your area at www.preservationdirectory.com.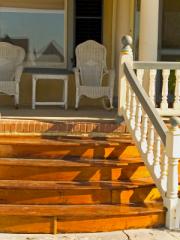 Read up and tour around: Venture out to your local library, historic house tours and museum archives to soak up ideas and inspiration for your restoration. A visit to the county or city records office will also have clues to the past. Broaden your touring plans with an online visit to the National Trust for Historic Preservation, offering everything from historic travel destination tips to books on the care of historic wood and plaster.
Shop for period-perfect fixtures and fittings: Over the past several years, increasing appreciation for the craftsmanship and design of older homes has made rare original items and affordable reproductions much easier to track down. Online searches will bring up a plethora of possible vendors, so know what you're looking for before you start surfing, and shop carefully. A few great starter sources are Rejuvenation, specializing in period-authentic lighting and hardware, and Van Dyke's Restorers, stocking restoration supplies, decorative elements, and much more.
Browse architectural salvage yards: Modern green-building principles meet the architecture of the past in these gardens of historical finds. Take a stroll through the offerings of your local architectural salvage dealer, and you may find replacement hardware, a period-correct fixture or an amazing garden ornament you didn't know you needed.
Salvage gurus travel far and wide to collect the nearly-priceless artifacts that renovations and demolitions leave behind, and their breadth of knowledge is as valuable as their road stories are amazing. To start improving your older home, visit the online yards of Ohmega Salvage and Recycling The Past to get a coast-to-coast feel for the latest in salvage finds, and then dig in with a visit to your local dealer.
Connect and vent: Thanks to the internet and its many message boards and blogs, you can easily connect with other folks wrestling with the same old house restoration worries, sourcing roadblocks, and construction questions that you have.
Results and accuracy of information aren't completely guaranteed unless a building or historic preservation professional is involved in the conversation, but you may be tipped off to a resource you wouldn't have known about otherwise. Old House Web is one launch point, and hosts forums ranging from period-specific restorations to general questions about improving older houses.