The question of whether to rent or buy a home can pop up more than once in life, and at any stage. Several elements enter into the complicated and very personal equation leading to your answer, and one category that can be expensive to leave out is that of home improvement and maintenance.
When it comes to home care and upgrades, renting and ownership each have their pros and cons. Stop where you are now, take an honest look at your priorities, and address the following categories as you consider whether to rent or buy.
Lifestyle. Now and over the next few years, what is the realistic amount of time you'll be able to devote to routine maintenance, improvements and surprise repairs? These are part of the territory when it comes to home ownership, whether taken on as do-it-yourself projects or supervised endeavors involving professionals. If you travel often for business or have other priorities that pull you away from home on a regular basis, the demands of a home could make for a bad match and make the rent or buy question easier to answer. Remember, repair crises almost never happen according to your preferred schedule.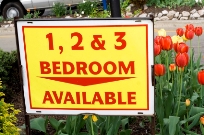 As a renter, you're freed from the responsibility of tasks beyond maintaining the cleanliness and general order of your unit. When an appliance breaks down, carpeting wears out or a light fixture is literally on the blink, all you have to do is call the super and things are righted, usually at no cost to you. The down side of this arrangement is that you're relying on someone else to get the work done, so before becoming a tenant, ask direct questions about a property's maintenance policies, response time, and staffing. Once you've moved in, back up any maintenance requests in writing to track response and compliance with your rental agreement.
Hidden costs. Along with property taxes, insurance and purchase fees, home care costs should be part of your buying budget as you consider the rent-or-buy question. If you stumble upon your dream home, resist falling in love and opening your pockets until you've engaged the services of a professional home inspector. After his or her inside-and-out assessment, you'll know what potential problems and projects lurk beneath the sparkling exterior, and can address them in both your purchase agreement and long-term budget. To find a qualified home inspector, use the Find A Home Inspector tool on the website for the nation's most respected home inspection professional society, theAmerican Society of Home Inspectors (ASHI). ASHI members must meet rigorous and ongoing experience, examination, educational and ethical requirements to secure and maintain membership.
Also invisible are the costs of routine improvement and maintenance. Lawns don't usually stay green on their own and HVAC systems don't change their own filters, so plan for year-round needs. These may include monthly costs for services such as landscape maintenance and housekeeping, or the employment of a handyperson if you're not. Finally, there are those big surprises that no one sees coming, so pad your savings for home emergencies and you'll save yourself some stress as well.
Back in Rentland, surprise costs can result from property malfunctions or tenant negligence, so be attentive to sudden changes and issues in your unit. Carry renter's insurance to protect your personal belongings, and understand what kinds of damage and replacements aren't covered by the maintenance policy.
Design for living. Whether rented or owned, every living space provides a virtually blank canvas for personal style, but the name on the mortgage determines how much you can actually paint in. Some rental properties allow tenant to make improvements such as wall and window treatments, but these are rare and can end up costing you when the unit needs to be returned to its original state at move-out time. Restrictions may also apply to picture-hanging hardware, window ledge displays and patio maintenance, and can affect the extent of your security deposit refund.
Ownership may mean more responsibility, but it also means no restrictions on the design elements and amenities in your home–a big factor for many in the decision to rent or buy a home. Change this and replace that to your heart's and wallet's content, choosing improvement products with quality and styling for years of enjoyment between all those maintenance projects.