Cabinets are the place where you stash your spices, cache your cereals, guard your glassware and put your pots and pans.
If your work space is crowded with lots of gadgets that don't have a home, cabinets and today's smart shelving systems can put everything into its place.
Cabinets can also be the single-biggest expense in a kitchen remodel. We hear lots of questions and concerns on The Money Pit about kitchen cabinets — how to repair, reinforce or refinish them, and how to plan a new room layout around them.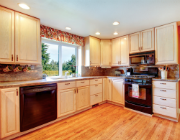 When our listeners ask if we recommend refinishing cabinets, our answer is usually, "Absolutely!" Most old cabinetry was built well, so preserving it is usually worthwhile. Sometimes, sprucing up cabinets can be accomplished with a thorough cleaning using Simple Green or TSP (tri-sodium phosphate). And today's range of finish and painting techniques provide a multitude of makeover options.
Just be sure to do a careful assessment of your cabinets' construction before diving into a DIY facelift. If they were installed in the disco era or later, they are likely constructed with solid fronts and paper-thin veneers on the rest of the box. Veneers can't be sanded or stained, so painting the cabinets will be the only option if they're involved.
Painting is also a great option for old solid-wood cabinets. First, clean them out and pull off the doors and drawers, and remove all the hardware. Then sand them by hand, or with a product like Liquid Sandpaper that leaves the surface clean and ready for the paint coat.
Next, prime them using an oil-based primer, which does a more durable job of getting the surface ready for the finish coat. Then paint away! We also recommend using an oil-based glossy paint for the finished coat. These surfaces tend to be harder and offer better wear protection than water-based acrylics.
Refacing the cabinets is another story. Wood, laminate or other veneer is glued to the cabinet surfaces, and door and drawer fronts are usually replaced. We generally don't recommend this, because the cost can be as much as half that of replacing the cabinets. Plus, with refacing cabinets, you're pretty much stuck with the layout you currently have. Adding cabinets gets expensive as they have to be built from scratch and then refaced to match the rest of the kitchen.
Bottom line is, if you're not happy with the look of your kitchen cabinets, you do have options for giving them an update. Replacement is expensive, so it really pays to look into cosmetic upgrades before you go down that road.