by Yuka Kato for Fixr.com
The summer months bring outdoor fun for many families. Unfortunately, they can also lead to some major home repair problems by summer's end. Sometimes it's seasonal equipment wearing out and sometimes the end of summer summer weather can become severe. These tips will help you take care of many of the common problems you may face at the end of the season, while saving money at the same time.
1) FIX A SWIMMING POOL LEAK
A swimming pool can be a lot of fun in the summer, but it can also be a lot of work to maintain year round. A small leak that appears during the summer months can become a major problem during the winter if a freeze/thaw cycle opens up the crack up to a bigger leak. After you drain your pool this year, take the time to check for and fix any leaks before you put the cover on for the winter.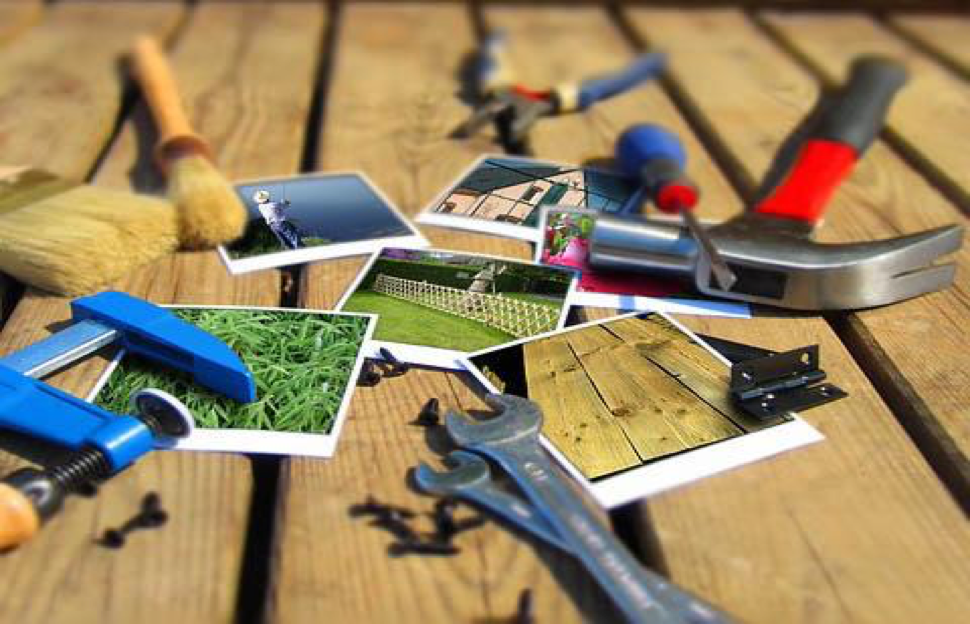 Cost to Repair
The average cost to repair a swimming pool leak is around $300.
Ways to Save
Find the leak yourself before you drain by dropping some food coloring into the water; the bright color will show up better in the cracks.
Fix small cracks yourself by using a compound found at most pool stores.
2) REPAIR A FURNACE
While your AC has been working hard all summer, your furnace hasn't been getting much action. It's time to make sure you repair any furnace issues you may be having before the cold weather sets in and you need it all the time. It's best to perform any furnace repairs in the fall, when demand is lowest and you don't need to pay peak season prices.
Cost to Repair
The cost of repairing a furnace is between $1000 and $1700 to replace the heat exchange.
Ways to Save
Most furnaces break down in the dead of winter; take care of issues now to avoid an expensive emergency repair bill.
Work to diagnose the problem yourself, and take care of any minor issues. These includes cleaning out the filter and the interior; dirt, mold, and debris are the cause of many issues, and all can be solved without a technician call. In the case of broken parts, it's best to call a technician.
3) REPAIR WATER DAMAGE
While it may not seem obvious at first, summer is a major time for water damage to occur in and around your home. Summer storms, floods, and leaking AC units can all do serious damage to your property by the time summer is over.
Unfortunately, it's not just the water itself that's a problem; water can eventually lead to mold, mildew, and wood rot if not cleaned up right away. In turn, this can lead to bigger problems during the winter when they're more difficult to repair.
Cost to Repair
The average cost to repair water damage to your home is around $18.22/a square foot.
Ways to Save
Run large fans and dehumidifiers around the clock until things are dry to stop potential mold growth and save on labor costs.
Tear out and remove damaged areas yourself to avoid some of the labor fees. Just make sure that the areas you are dealing with are indeed damaged beyond repair and that they don't contain toxic mold before you begin.
4) REPAIR STORM DAMAGE
In some areas, summer storms are as common as sunny days. And if you live in an area prone to floods, hailstorms, and hurricanes, you may find even more damage. Hailstones and high winds can be responsible for downed tree limbs, as well as damage to your roof, siding, and skylights. These issues can also lead to further problems during the winter months, when they allow moisture to infiltrate your home.
Cost to Repair
The cost to repair widespread storm damage to your property is around $10,000
The cost to repair a roof damaged by a storm is around $630 for a 10 x 10 area
The cost to repair a skylight is around $300
The cost to rent a dumpster to haul away storm debris is around $530 for a week long rental
Ways to Save
Protect your home from secondary damage after the storm by covering damaged areas of your roof or skylights with tarps to keep water out. Remove downed tree limbs and check for power lines in your property.
Call your insurance agency to find out what storm repairs may be covered under your policy.
5) PATCH YOUR DRIVEWAY
While you're putting away your summer belongings, be sure to check out the condition of your driveway. If your driveway developed cracks or potholes last winter, end of summer is the best time of year to correct these issues. Patches made now will have time to cure before the coming winter, and the weather isn't too hot to be working outside in the sun. Patching your driveway can help prevent future damage as freeze/thaw cycles can open up old cracks into new holes.
Cost to Repair
The cost to patch a driveway is between $3 and $5 a square foot.
Ways to Save
Patch small areas yourself to save on labor costs. Just chisel out the loose and damaged areas, and fill them with Portland cement.
Bottom Line: Take Care of Your Home
The end of summer may be upon you, but that doesn't mean you can neglect your home until next year. Take advantage of the remaining nice weather to attack some of the bigger projects you've been putting off and help ensure your home is ready for the coming winter. To find out more about what things cost, be sure to visit the Cost Guides.