For faster, more efficient charging of your electric vehicle, outfit your garage with the EVLink Residential Electric Vehicle Charger from Schneider Electric. The top charger brand among professional contractors, the level-2 EVLink features a full 30 amps of power to charge a full-battery vehicle in as few as four hours.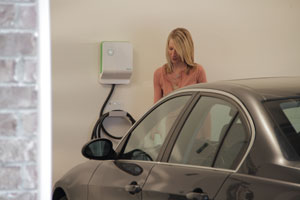 Most electric cars come with a level-1 trickle charger, which can take up to 14 to 16 hours to charge. But the level-2 EVLink charger is typically four times faster, servicing vehicles ranging from 16 amps to 30 amps. It's small, streamlined and integrates well in tight garage spaces, and includes a delay feature so you can set charging to start hours after plugin when utility demand is lower. A separate cord-mounting bracket allows for flexibility of installation, and you can personalize the EVLink charger with a custom skin made from your own photo or over 600 stock designs.
The EVLink Residential Electric Vehicle Charger is available at West Coast Home Depot stores as well as at HomeDepot.com and Lowes.com, and may also be purchased via an electrical professional. Find out more at SchneiderElectric.US.