Tom:
Welcome to the Money Pit's top products podcast. I'm Tom Kraeutler in Greenville 2015 talking to Shane Miller with
Niagara Conservation
. Niagara is a company that has been building water conservation products for a long, long time. In fact, I was telling Shane just before, that these guys were doing this before conservation was very cool. They've stayed afloat by making products that work and work very, very well. Their newest product is called the
Stealth Toilet
. It comes in a single flush or a dual flush version. Shane, tell us why this is new to the market and what it brings that we didn't have before.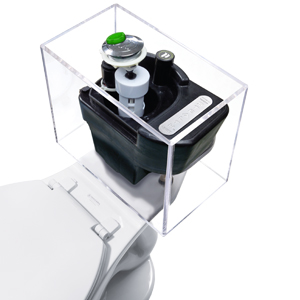 Shane:
Sure, Tom. The Stealth Toilet is the world's most efficient toilet. It has patented vacuum assisted technology that basically creates a vacuum and allows the toilet to flush at 0.8 gallons every single time without having to flush multiple times.
Tom:
To put that in perspective, when I was growing up, our toilets were flushing 5 gallons.
Shane:
That's correct. I think in the last couple of years, people have started migrating down from the 3.5 gallon toilets and nowadays the 1.6 gallon toilet is pretty much the standard. They do make a high efficiency toilet that is 1.28 gallons but we've topped that even with an ultra high efficiency toilet at 0.8 gallons per flush.
Tom:
People are concerned that when you have a toilet that doesn't flush that much water, it's really not going to do the job. How does this challenge that notion?
Shane:
These toilets are a little different than probably what you're used to where water is the driving force pulling the waste down. This one relies more on compressed air and the air pulling the waste down the line.
Tom:
When we look inside the toilet, we see the sort of the black box, right? What that does is that sucks up the air from the lines itself. Doesn't let any the sewage gases get to the outside. Stays inside. When you actually use the lever to flush it, it takes that air and pushes the waste down. The water coming behind it, the .8 gallons, is really just cleaning the bowl at that point.
Tom:
Why would somebody choose a single flush toilet over a double flush toilet?
Shane:
With the dual flush, there certainly can be some room for error. There's some education. Customers aren't used to the dual flush toilet and you get in a situation there may be solids and somebody uses the single flush. So there is some education and some room for error there. At 0.8 gallons, we think that toilet is just perfect. No room for error and it does the job every single time.
Tom:
There's a simple solution to that. Just label the flush one and two.
Shane:
That's a good point. That's a good point.
Tom:
All right. Shane Miller from Niagara Conservation. Thank you so much for stopping by the Money Pit. If we'd like to learn more about your products, can you give us your website?
Shane:
Sure. It's niagaracorp.com.
Tom:
That's niagaracorp.com.