The Lutron Maestro Occupancy Sensor with switch automatically turns lights on when you enter a room and off when you leave, for hands-free convenience and energy savings. It's ideal for rooms where lights are often accidentally left on, such as a child's room, or rooms you tend to enter with your hands full, like the laundry room.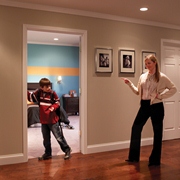 The Maestro Occupancy Sensor's innovative sensing technology ensures that lights stay on when the room is occupied, and it features a patented ambient light detect that senses natural light in a room so that lights only turn on when needed, helping you save energy. It works with all types of light bulbs without special wiring requirements, and has a sleek design that blends easily with any décor.
The Lutron Maestro Occupancy Sensor is available in small room and large room/fan models, and all sensors include an optional vacancy mode allowing lights to be turned on manually when entering a room with automatic shutoff when the room is vacant. Find out more about Maestro at www.lutron.com/occvacsensors.