Nowadays, we're all trying to cut down our energy bills. But it's not always easy to remember to turn the lights off when you leave a room. With Lutron's Maestro Occupancy Sensor Switch, you'll never forget to turn off a light again!
That's because this convenient sensor does all the work for you — turning the lights on when you enter a room, and then turning them off automatically after you leave.
By making sure the lights are on only when you need them, the Lutron Maestro Occupancy Sensor Switch can save you as much as 50% in energy costs. Plus, you won't have to fumble for the light switch with an armful of groceries or walk into a dark laundry room laden down with a heavy basket!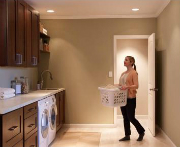 The sensor works with all light bulb types, including CFLs and LEDs, and easily installs in as little as 15 minutes in virtually any room in your home. The time delay before the lights turn off is adjustable. It can be set as low as one minute – great for smaller rooms, like a powder room – or as long as 30 minutes, which is best for larger spaces, such as a bedroom.
The Lutron Maestro Occupancy Sensor Switch has a number of additional features to make sure it works with the way you live in your home. Don't need the lights to come on because it's daytime? The sensor switch is smart and can detect daylight, so the lights only turn on when needed.
Don't want your pet running up the light bill while you're not home? Or, don't want the lights turning on when you get up in the middle of the night to use the bathroom? The automatic on-feature can be disabled. The switch is then manually turned on, but the sensor will still automatically turn off the lights. This is perfect for bedrooms or homes with pets.
Worried that the sensor won't know you're still in the room? The Lutron Maestro Occupancy Sensor Switch uses proprietary sensing technology that detects fine motions, such as turning a page or typing at a computer. This ensures the lights stay on while the room is occupied.
So if you're tired of the lights being left on or fumbling for the light switch with full hands, the Maestro Occupancy Sensor Switch makes life easier while helping you save money and go green at home. The Lutron Maestro 2 Amp Single-Pole Occupancy Sensing Switch retails for about $20. Learn more a www.lutronsensors.com.