Tom Kraeutler : This is the Money Pit's Top Products Podcast. I'm Tom Kraeutler at the 2015 International Builder's Show. As we talk to millions of homeowners that listen to our show every single week, we keep track of the topics that you want to know about. The number one most asked about topic on the Money Pit over the last several years has been floors.
One company that knows that better than most is Lumber Liquidators. Steve Stocki is with Lumber Liquidators. They've got some new products coming out here at the Builder's Show. Steve, let's talk about a little but of the background about Lumber Liquidators. It's always been an affordable way to get flooring for your home. Why is that?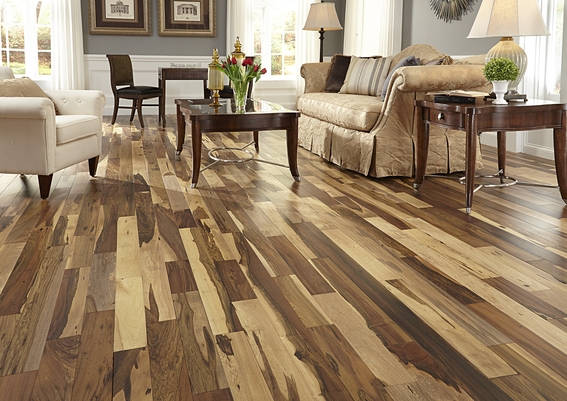 Steve Stocki : With Lumber Liquidators, what we do is we cut out all the middle men, the exporters, the importers, the distributors, the warehouses. We sell direct to the public. By buying directly from manufacturers, and then turning around and cutting all those out, we're able to alleviate a lot of the internal mark-ups where you'll see in two and three step distribution and a lot of other retail avenues. By selling that direct, we are able to offer everything at a very affordable price.
Tom Kraeutler : Buying direct from the manufacturer sounds very attractive to consumers. Installing the flooring perhaps not as much. Do you provide some guidance on how to get the project done?
Steve Stocki : Absolutely. Every associate at our stores are flooring experts. They can talk about what type of floors should go in different locations of the home, and at the same time, appropriate tips and tricks on how to do the installation yourself. We're a one-stop shop for not only the floor and accessories, but how you can do it yourself as a DIYer, or if it's new to you, we offer installation instructions and a technical service at the same time that you can contact. They'll answer any and all questions you may have.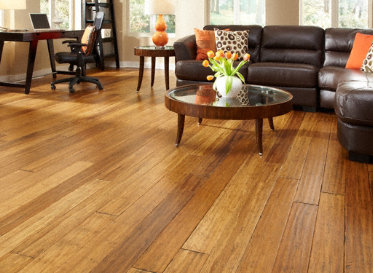 Tom Kraeutler : All right. Traditionally here at the Builder's Show, manufacturers bring out lots of new products. What's new from Lumber Liquidators?
Steve Stocki : A couple new things that we're looking at focusing on this year is our new matte finish in our Bellawood line. What we did was we took the oil finish that's popular in European construction, and we brought it over into a factory finish. What that is is where oil finish, you need to constantly have maintenance and upkeep to protect that floor, with a factory finish and an extremely low gloss level with Bellawood matte, we're able to provide the best of both worlds and a product that is excellent to look at and very, very easy to maintain.
Tom Kraeutler : All right. What else is new?
Steve Stocki : We're now offering a wood plank tile. It's a high definition porcelain tile with the appearance of a wood look. It's available across the entire nation through 360 plus retail stores. There's quite a few options to select in all different types of color palettes.
Tom Kraeutler : It's actually a porcelain? How do you get the wood finish onto a porcelain tile?
Steve Stocki : With high definition porcelain, it's a screen printed image. What's new with high definition porcelain as the tile industry changes is that the pattern that's actually imprinted on there, you start to see less and less repetition. Where before, you may see seven or eight different tiles that you have to rotate when you're doing your installation, you now can go a couple hundred square feet without repeating a similar image. That's where high definition has really come in in the tile industry, especially with wood plank tile that we offer.
Tom Kraeutler : Since it is a porcelain tile, do you have to worry about grout lines?
Steve Stocki : There are still going to … You still need to grout it, so whether you want to do a grout line that matches exactly what the tile is or whether you want to do something that accents your tile, you still get the option of choosing your group color as well.
Tom Kraeutler : We're talking to Steve Stocki. He's with Lumber Liquidators. What's the most popular product that Lumber Liquidators sells? What's the number one thing that consumers are looking for?
Steve Stocki : Number one thing I think consumers are looking for is it's not an individual product, but actually that we have selections of all different types of floors depending on what their price point is and what their ultimate flooring selection is, whether it's hardwood, engineered, bamboo, laminate, vinyl. We have so many different options at all different price points and all different color tones. I would say our most popular flooring though is our Tobacco Road Acacia, which we're displaying here at the International Builder's Show right on our floors, but we have so many different options that are popular across the United States.
Tom Kraeutler : Steve Stocki with Lumber Liquidators. Thanks so much for being part of the Money Pit broadcast.
Steve Stocki : Thank you very much. Have a great day.