Some of the hardest working and most beautiful surfaces in any home are the floors. And for decades there's been no better source for durable and stylish flooring than Lumber Liquidators.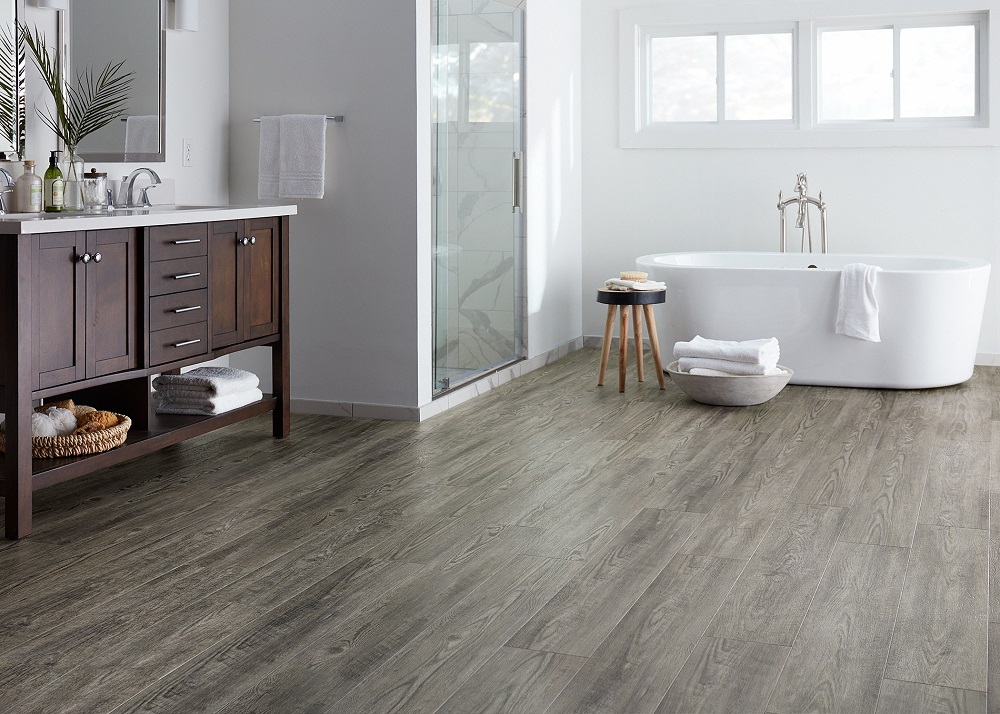 Now, Lumber Liquidators is going forward as LL Flooring — and what's more, the company has added a suite of digital tools and services designed to make the shopping experience better than ever before.
LL Flooring President and CEO Charles Tyson joins hosts Tom Kraeutler and Leslie Segrete to discuss their on-trend flooring options and LL Style, a new content platform. Plus, we learn more about the new in-store experience, online tools to help customers, and how LL can help you get the job done with installation services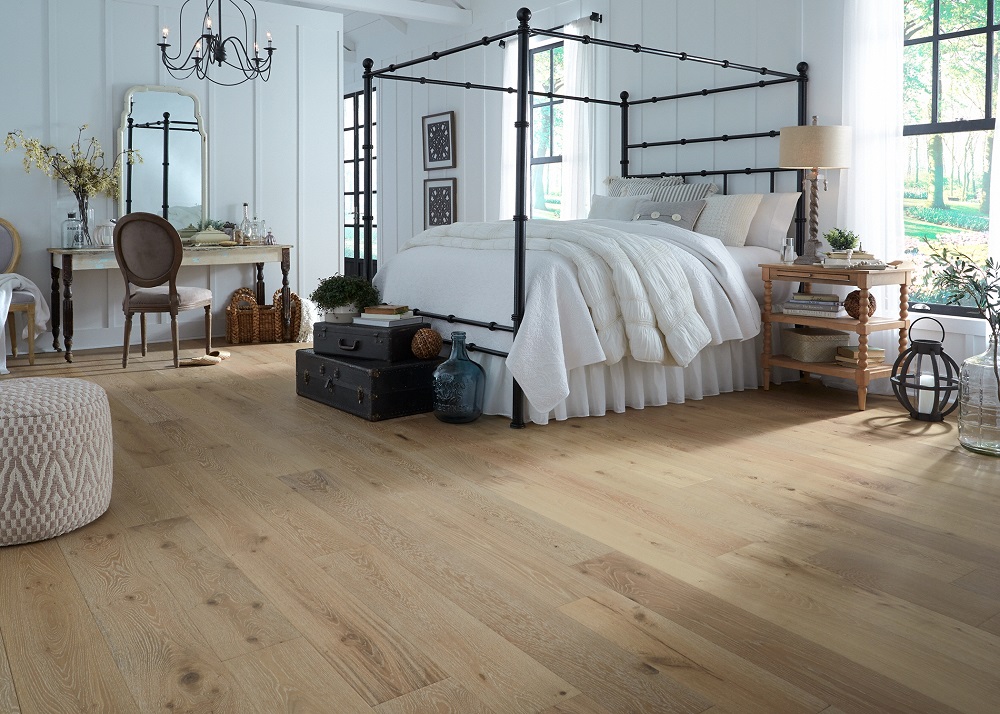 TRANSCRIPT
LESLIE: Well, some of the hardest working and most beautiful surfaces in any home are the floors. And there's no better source for durable and stylish flooring than Lumber Liquidators.
TOM: Well, now, Lumber Liquidators is going forward as LL Flooring. And what's more, the company has added a suite of digital tools and services designed to make the shopping experience better than ever before. That's why we're pleased to welcome the president and CEO, Charles Tyson, to join us now.
Welcome, Charles.
CHARLES: Hey, Tom and Leslie. Thanks very much for inviting me on and letting me spend some time with you and hopefully answering some questions. I hope your listeners think about how to make their homes absolutely fantastic.

TOM: So, talk to us about how Lumber Liquidators is now LL Flooring and how the company has been working to further improve how people can shop for flooring.
CHARLES: Yeah, we've been working on this for a while now. You know, clearly, as we think about our position in the marketplace as a specialty retailer, we want our brand to be reflective of what we do, which is selling top-quality floors, having a really high-touch experience with our fantastic sales associates. We have a very broad assortment. We have over 450 A-quality floors, whether it's wood flooring or vinyl flooring. And we've really expanded our digital tools to help customers through their purchase journey in flooring.
And so we really felt that we need a name that is reflective of what we do as a great retailer. And we don't sell lumber and we're not a liquidator. And so, we're piloting LL Flooring in around 20 stores this year to help – really help customers better understand what we do in the marketplace.
LESLIE: There's so much that you guys bring and I really feel like you're showcasing so much of the latest trends, different colors, different materials. What are you seeing? Because I feel like the flooring industry and the design end of it is just changing so much. What's popular? What's trending right now? What are you seeing?
CHARLES: Yeah. That's a great question, Leslie. I think that the flooring business has really evolved over the last 5 years where – when people were doing a project in the home, they didn't consider flooring because it was too complex. And the technology is, particularly with click mechanisms, is allowing for a much easier installation, which is allowing flooring to be part of that broader home remodeling project with a good value of being able to do the complete job.
But from a style and trend perspective, there's a lot of European influences that have been flowing through. You see a lot more of the wide boards. We carry product that's up to 7 inches wide and 8 feet long, 10 feet long. So, very different than the 2¾ boards that you saw 5 or 6 years ago.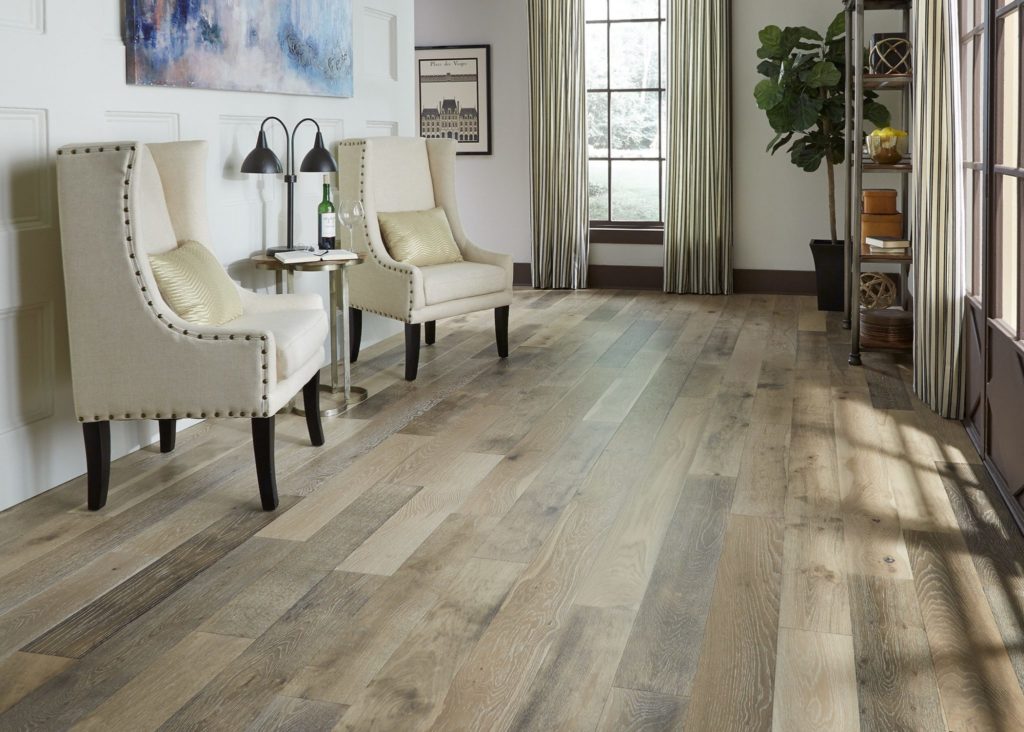 Colors. Color is just so important and it's moved so far away from just the dark browns or the light oaks. And of course, you see the grays moving through in home décor and it's really important in terms of how it's driving trend in flooring.
But then the European looks: the white oaks coming through. So we really look throughout the world for what's going to be the future of home décor and how do we think about color palettes or how do we think about finishes.
And then the other thing, from a design perspective, is functionality. Young families, they want to use the whole home. And so, their living rooms aren't these rooms that just are for formal sitting anymore; they're action rooms. And so, waterproof flooring, water-resistant flooring so that whether you've got pets, whether you've got young children spilling water, spilling the juice, really easy to clean up. And just – the floor looks just as vibrant tomorrow as it did yesterday.
So, we're really looking at how do we bring design and look and functionality into the marketplace in a very cost-effective way. And we've introduced some new products recently. One is our Bellawood Manhattan Chevron. And it's just a fabulous-looking product but we designed it in a way that allows people to do really easy installation. If they're a DIYer or if they need an install, we can arrange to do installation, as well.
TOM: Charles, I think one of the things that sort of hangs folks up when they're trying to make a decision on a product like flooring is sort of the analysis paralysis with so many choices. You guys have got 400 stores and more across the country. How do you help consumers narrow down what the best flooring application is for their specific use?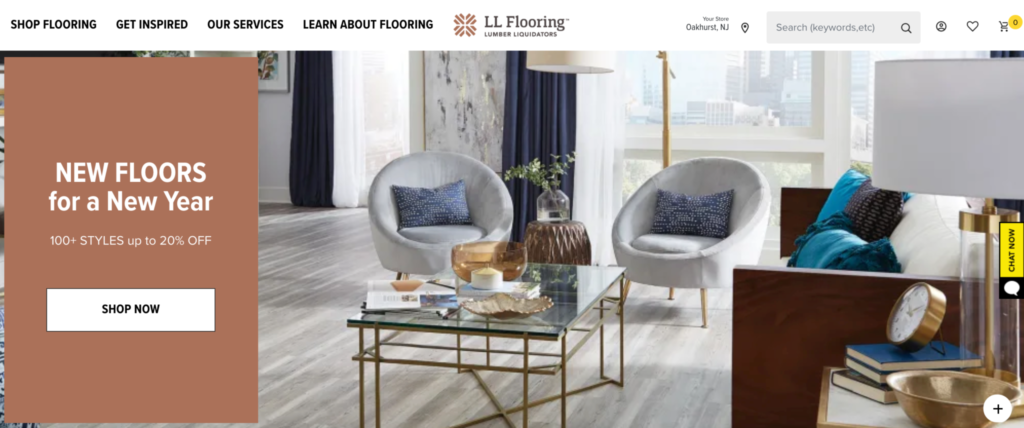 CHARLES: Yeah, that's a great question, Tom. So if you go out onto LL Flooring, we've created some tools to try and help folks really visualize what it is we do. We have a product called the Floor Finder that's just a few quick questions. And it will basically help you narrow down onto the type of floors that are likely to be right for you.
We then have an item called the Picture It tool. And it's absolutely so much fun. You can take a picture of any room in your home and you can download any product from our website. And you're actually going to see that floor in the exact room that you want to do. And again, this is new technology. Our average customer downloads multiple floors, so we know that they're trying to figure out exactly what's the right style, what's the right look for them.
We offer free flooring samples online. You can go online. You don't have to go to a store but you can certainly go to a store and pick up samples so that you can come home and lay those samples out. You can look at the Picture It tool. And what we're trying to do is make it really easy for you to make a good decision, from a flooring perspective, and really understand up-front, before you make that big investment, that the floor is going to turn out the way that you really expect it to from a look-and-feel perspective.
And then, of course, there are some customers who said this is a daunting project. We're able to offer floor installation services, to come in and do the work. In this COVID environment, if you don't want to go to a store, we can arrange for delivery. And we even have a process now online called Virtual Sales, where you can actually click a box and do live video with a sales-team member in a store. And they'll walk you through all the samples that we have. We can then send the samples to your home.

And so, particularly for those folks that are at risk in this COVID environment, we've come up with a total end-to-end solution without even having to visit a store. And we're really excited with some of the feedback that we're getting from customers, of how helpful they're finding that. And for some in this difficult time, they want to work on the home but they also want to protect themselves.
LESLIE: I mean you're really making it super easy for folks to find the right flooring, the most beautiful flooring, the piece that they're going to love. So, kudos to you guys for making it easy in this super-weird environment we're all dealing with this year.
CHARLES: Yeah, you know it. But I don't want to forget the fact that we've got real experts, whether it's in our call center or in our stores. And so, if you get stuck with a project, we're going to be there to help you. And you can either call a store, you could go in and visit one of our store-flooring specialists. A lot of people will come in with photographs of their flooring project. And simple things like underlayment. How is the floor prep ready for the new floor? And our teams are there to help you, not just at the – we don't want to just sell you a floor. We get so excited when our customers come in at the end of a project and they bring photographs in or they send in photographs of their finished floor.
And that's why we're different. We're a retailer. We want to give you tools to make it easy. But if you get stuck, whether it's a pro who needs that special piece of product to finish a home project or our installers who are highly qualified to help customers through it or our in-store or online service personnel, the team that we have, they're flooring experts. That's all we do. We don't sell furniture. We just sell flooring and we want to make it a great experience for our customers.
TOM: Well, I've had been many personal experiences with the folks in my local Lumber Liquidators, now LL Flooring, store. And I've got to tell you, they really know their stuff. I've thrown some really difficult questions at them. I have a very old house, over 130 years old. I have a very sloping floor that I wanted to put a floor down. And we had a long, detailed, technical discussion about just how to level that floor, how far the floor-leveling compound products that you guys offer will go. And I was very impressed by their knowledge.
And I've since done two projects for family members with your products and both of them were just absolutely amazing. The before-and-after transformations came out so, so well.
And I think folks can be daunted by the process of putting down a floor but boy, has it gotten a lot easier with the click-lock technology. Charles, the first laminate floor I put down was a tiled floor. It was 2-foot-square tiles that looked like stone. And it was back in the day when you had to physically glue and clamp every single tile to the next one. And it took me so long, I said to myself, "Oh, my gosh, this laminate-floor stuff, it's never going to go anywhere like this," because it just took so long.
And then, all of a sudden, we've got the click-lock technology. You're snapping these boards together and you can do a whole room, certainly, in just a few hours, even if you don't do it every day. And every one of the products that you guys put out has that kind of quality and expertise that comes behind it. And I think that's why you've been so successful and will continue to be very successful under the new brand name of LL Flooring.
Take a look at their website: LLFlooring.com. Take a look at all of the digital tools that Charles talked about. If you need a floor in your home, if you'd like to refresh your space, there is a solution for you waiting at LLFlooring.com.
Charles Tyson, the CEO and president, thank you so much for stopping by The Money Pit and continued good luck with all of this exciting growth.
CHARLES: Thanks, Tom and Leslie. I appreciate it and we look forward to seeing folks coming in. And hoping that we really make their homes look beautiful with a fantastic selection of floors.
So, again, appreciate having me on.
LESLIE: Charles Tyson, thanks so much for stopping by The Money Pit.