If you live along the Atlantic or Gulf Coasts, your home's windows can have a critical impact on the local environment this time of year. Starting in early May, thousands of sea turtle hatchlings break through their shells along beaches in these regions, and their first decision in life is crucial: how to return to the sea. Rather than follow the moon back to the ocean, these sea turtles are often confused by bright lights in coastal neighborhoods and head for houses and streets, resulting in almost certain death.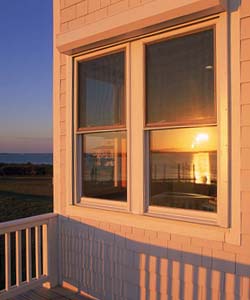 "Sea turtle organizations and dedicated volunteers worldwide are concerned about artificial lights in homes and on the streets that confuse baby sea turtles," says Ken Kubus, coastal products manager for Simonton Windows. "Light pollution can be deterred when homeowners have grey-tinted, or greylite, glass in windows facing the beachfront. This type of 'turtle glass' helps dull the impact of light on the beach from homes and businesses so that the hatchlings turn toward the moon—the brightest source in the sky—to lead them back to the ocean."
Incorporating greylite glass allows coastal residents to play an active role in the safety of mother sea turtles and their new hatchlings. Some savvy manufacturers offer greylite glass as an option in product lines, including replacement windows. Changing a home's outdoor lighting to red or low-pressure sodium-vapor varieties also makes neighborhood illumination less intrusive for sea turtles.
The Sea Turtle Restoration Network, Sea Turtle Preservation Society and the Sea Turtle Conservancy all suggest additional steps that coastal residents and visitors can take during the hatching season running from May 1 to October 31:
• Close any opaque curtains or blinds after dark to cover windows visible from the beach.
• Do not disturb markers or screening over turtle nests that are being protected.
• Watch turtles crawling to/from the ocean or laying eggs from at least 30 feet away so as not to disturb the turtles.
• Avoid walking on beach dunes, a popular area for nesting sea turtles.
• Do not litter on the beach. Fishing lines, trash and even cigarette butts can harm the animals along the beach and their natural environment.
There are plenty of natural threats to sea turtles that impede their chances of survival, and artificial lighting from human residences only adds to the reasons why an estimated one in 1,000 to 10,000 sea turtles will survive to adulthood off United States coasts. Incorporating greylite glass into oceanfront windows can truly have a positive effect on the lives of these animals, and creates a home with a true view to conservation.