We get dozens of calls each year from listeners asking how to clean and protect natural stone countertops. Most are surprised since they didn't expect that a natural, durable surface like stone would need much maintenance.
Truth be told, they do! But if you learn to properly clean and protect your natural stone floors and countertops, they'll serve you well for years.
Certain chemicals and tools can discolor or dull stone, or shorten its lifespan. Steer clear of acidic fluids like lemon juice and vinegar, and any cleaning products containing acid or ammonia. When cleaning natural stone surfaces like floors and countertops, it's also a good rule of thumb to avoid products intended for tub and tile, as well as anything powdered or abrasive. Certain types of stone, such as marble and travertine, can scratch easily. Granite is stronger, but it's certainly not scratch-resistant, so use caution.
To play it safe, clean stone surfaces with a mild liquid dish detergent and warm water. For floors, use a soft rag mop; for countertops, a soft cloth. Be conservative with the soap solution, because too much can leave behind film or streaks. Another way to avoid streaking is to change that dirty, soapy water frequently while cleaning. You don't want to be reapplying the same dirt you just removed. Rinse the surface well after cleaning and dry it thoroughly with a soft cloth.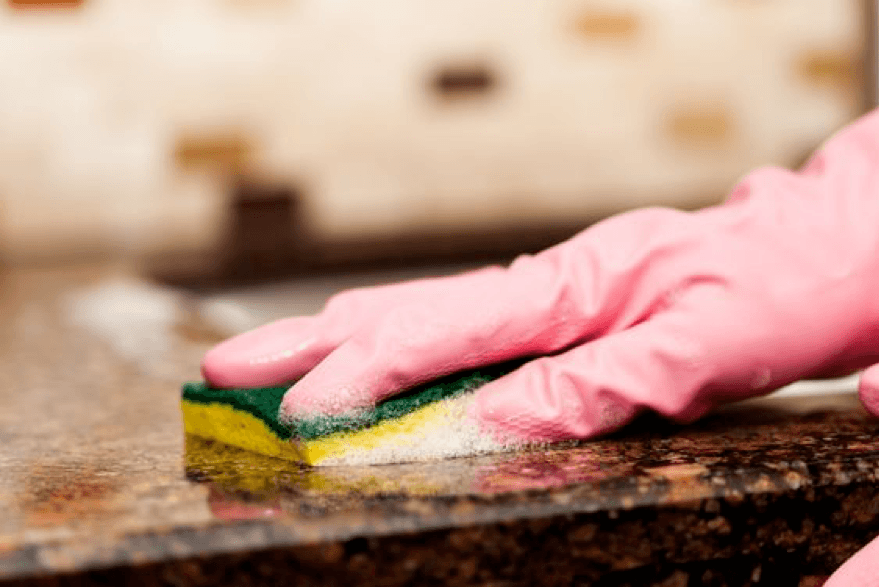 Here are some quick tips to avoid stains and other small disasters on natural stone countertops:
Use Coasters. Glasses with hard edges can mar the surface of stone. Also, beverages containing alcohol or citrus juice can dull or deface stone. If you do have a spill, clean it up quickly, and blot at the liquid instead of wiping.
Use Trivets & Placemats. Keep hot dishes off your stone countertop whenever possible. Use mats and trivets to create a buffer. Be mindful of kitchenware that can scratch a stone surface, like porcelain and ceramic dishware, and silverware.
Use Cutting Boards. Need I say more?
With the right cleaning tools and a few good habits, you can protect your natural stone surfaces, including floors and countertops, and keep them looking beautiful for years.