Building a home bar is a favorite home improvement how to project as the popularity of home entertaining continues to grow, and a range of smart, convenient amenities adds a professional touch to the proceedings. The home bar category is really pouring on the options these days, with everything from units that fit in like furniture to elaborate custom built-ins loaded with clever features. If you're planning to build a home bar, consider the following ingredients to create the perfect mix of utility, space-smart features and style.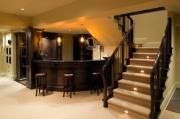 Location, location, location. Finding real estate within your real estate is the first ingredient in building a home bar. Game rooms and basement rec areas are the most obvious locations, but if there are other zones in your home that frequently see party traffic, get creative. Depending on its size and scope, a home bar can discreetly furnish a corner of the living room, embellish one side of a generous passageway between kitchen and dining room, or even occupy a converted closet.
Features and functions. Also consider how the appliances and amenities you'd like to include in your home bar, and the utilities they'll require. Keg fridges, wine coolers and countertop appliances may call for the extra electrical juice of a new circuit, and lighting, whether task or decorative, should also be part of the plan. Plumbing comes into play if you want to add that nifty bar sink you've been eyeing, and a basement-based wet bar poses the extra challenge of being beneath your home's waste line (gray water pumps are among the additions that'll have to be made; no dumping to the sump pump allowed!). Finally, think about the amount of glassware and gear you'll need to store in your home bar, and the surface area needed to accommodate beverage service as well as any food prep and display.
Build for comfort. Whether your home bar is bought or built, consider the comfort of your patrons. The optimum height for a sit-down bar is 42 inches, and 46 inches for a standing-room-only, continental style. Plan a one-foot overhang so knees won't get knocked as soon as your customers take their seats, and allow a two-foot width per stool to provide comfy elbow room.
Styling the scene. In addition to your personal tastes, the style and décor of your home bar will be determined by its surroundings. While a designated guy hideaway is the perfect place to splash out the sports memorabilia, neon signs and classic dart board, subtlety and coordinated styling are called for when the bar is incorporated into a more formal living area. You can also choose one of the many styles of portable home bar models to deliver beverage service where and when it's needed, and be stowed away when it's not.
Customize with bar hardware. All the traditional touches you've admired at old-time pubs and brassy barrooms are available for your own home bar through specialty retailers. Kegworks.com is just one of the online hubs offering such accessories as brass foot rails, partition posts, and bar stools. And if you really want to go traditional and authentic when building your home bar, look into reclaimed bars and backdrops salvaged by demolition pros from original public saloons. Experienced craftspeople can customize these treasures to accommodate modern amenities while preserving their classic charm.
Stock it up. Once your home bar is finished and furnished, stock it for the grand opening. In addition to popular liquors and mixers, you'll need a brigade of glassware in various shapes and sizes, an ice bucket and tongs, a bottle opener, bar towels, and a bartending recipe book or two. A blender is another handy addition, and you can find even more gadgets and serveware through HomeWetBar.com as well as your favorite home décor and entertaining store.
From there, issue the invitations to show off to friends how you built your home bar and let the party begin!