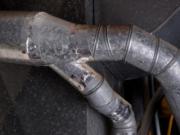 Okay all of you central air conditioning skeptics out there, listen up! If you own an old home, like I do, and think central air conditioning is not possible, I am about to prove you wrong. As I had previously blogged we decided to jump in and put air into our 100 year old home. I spoke with company after company before selecting Elm Air Conditioning. By all means if you live on Long Island, New York invite Elm into your home for an estimate and hear their ideas. They are truly pros and did a fantastic job for us.
When the work started the team said two days, now being familiar with contractor terms when I hear that I immediately assume 2 weeks, he he. But they said it and they meant it. Two days start to finish and done. The job was done neatly and professionally. I was convinced the house was going to be a mess, wall would be torn apart, ceilings collapsing, but alas no such thing.
Each hole cut into the ceiling for registers was done in the neatest way possible. Boxes were placed below the area being cut out and all dust and plaster went right into the box. When problems popped up for locations of ducting they were quickly solved and done so in a way that took no extra storage space away from anyone. Hey, when you have an older home closets are small and storage space is valuable, believe me.
Same goes for the attic where the ducting and air handler now live. In my mind it was going to look like some sort of space creature reaching its silvery arms across the space leaving no room for the clothes that my son is quickly out growing, but again it didn't . The attic is so neatly laid out and we didn't have to give up an inch of space.
At the end of both works days the house was cleaned by the team and left exactly as it was when they arrived. Professional through and through and nice guys also. I am sure it helped greatly that I bought lunch for them both days and had a fresh pot of coffee waiting when they arrived. Hey being nice never hurt anyone, and when it comes to people working in your home you should be nice, it pays.
When the job was completed we received a packet from Elm stating all of the equipment installed in our home. How to use it, care for it, maintain it, and trouble shoot if an issue should arise. Plus emergency phone numbers should we find our selves warm on a hot August night. Within two days of the job being a memory and envelope arrived in our mailbox from Elm; it contained a folder marked please give to your accountant at tax time, in it, all the papers needed to receive our federal tax credit. Wow, they answered every question before I even had a chance to ask it.
Please know that Elm didn't ask me to write this or anything; I was just blown away by the work and professionalism of the team and had to share it with you. I hope that if you thought central air conditioning wouldn't work in your old house, give it a second thought. The time is perfect, many installers discount in the cooler months, the manufacturers are all giving rebates, and the federal tax credit is good through 2010. I have made a believer out of myself now all we have to do is wait for next summer. Only nine months to go, but whose counting…..