Just as products for home interiors have been getting greener, there's a growing variety of exterior treatments for creating an ecologically sound home shell. Green roofing and siding are both tall orders for new formulations as they require durability, good looks and reasonable maintenance.
However, there are already some smart green roofing and siding offerings joining the traditional materials that have been green all along. Here's a tour of current green roofing and siding options for an earth-friendly update of your home's exterior.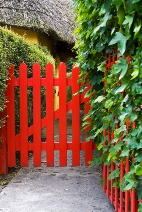 Roofing options. As you consider various green roofing products, remember that their green attributes extend beyond ingredients and composition to the interior energy savings they can generate. Energy Star evaluates roofing products on this basis, testing them when new, and again three years after installation on a home, so be sure to look for the Energy Star label to ensure your favorite roofing has made the cut.
Clay – One of the oldest and greenest roofing materials, clay is a durable option offering good looks that mellow beautifully with exposure to the elements. It works well with both contemporary and traditional home styles, and can be made to replicate vintage fabrications for renovations of classic homes.
Slate – Though difficult to install, slate is another highly durable and great looking green roofing material. Environmental cost in terms of transport fuel is its one non-green aspect, but you can offset this by ordering from a local quarry or working with a supplier dealing in salvaged slate.
Metal – This material's reflective properties cut down on the heat transmitted to the inside of your home for energy savings of up to 40%. Weather conditions can affect a metal roof's lifespan, but it still has significant potential for impressive longevity of 50 to 100 years.
Rubber – Tile made from recycled tires is a newer development in the roof realm, offering ease of installation, strength with lighter weight, and a profile that resembles slate roofing.
Solar Shingles – The next step up from installing large solar panels over existing roofing, solar shingles contribute to both energy generation and savings for a home. Solar shingles can be integrated with existing roofing or cover an entire roof, and though current options tend to be on the pricey side, demand is bringing those numbers down for a great value in combination with the tax breaks you can receive on this green roofing option.
Siding options. Sustainability in green siding means not only green ingredients but a product that will stand the test of time as both the siding and your home age. When considering if a siding is truly green, also consider the inclusion of resins and adhesives that may have an off-gassing effect.
Solid Woods – This popular, renewable material has drawbacks of frequent maintenance and the tendency of the most durable varieties to come from old-growth trees; however, you can avoid the latter by selecting only FSC-certified or re-purposed wood products for a more green siding option for your home.
Fiber Cement – Products such as HardiePlank™ from James Hardie are comprised of cement and wood fibers for a durable and affordable green siding solution with the look of natural wood.
Metal – Aluminum and steel compositions are usually made of recyclable materials, which offsets their high embodied energy (green speak for the combination of manufacturing, transportation and labor costs they involve).
Engineered Wood – Stay green by looking for FSC-certified and urea-formaldehyde-free engineered wood to get strength and resilience without harmful off-gassing.
Stucco – This classic cement-based siding treatment is durable and low-maintenance. Earth- and lime-plaster varieties are among the green siding varieties making a comeback around the U.S.
As with much of the green movement, green roofing and siding will eventually come the norm. Until then, do your homework to choose the best material for your home remodeling project, and the environment.