Strength, durability, and a great look should seal your home's envelope at the roof level. Even a spectacular roof won't last forever. If you are ready for new roofing, here's a review of the best options for repairing or replacing that structural lid of your home.
| | | |
| --- | --- | --- |
| ROOFING MATERIAL | PROS | CONS |
| Asphalt, Composition Shingle | Long-lasting. Relatively inexpensive. Available in dimensional shingles that resemble clay tiles or shake shingles. | Must be cleaned occasionally. |
| | Lightweight. Can be installed over an old asphalt shingle roof. Saves energy. Can last 50-100 years. | |
| | Inexpensive. Good solution for sheds, pole barns and utility buildings. | Short-term roofing solution. Not very attractive. |
| Built-Up Roofs, Rubber or Modified Bitumen | Extremely durable when properly installed. One of the only roof systems designed for flat or low slope applications. | Difficult to repair when leaks occur. Some need to be painted with an aluminum oxide paint to reflect deteriorating UV radiation. |
| | Green option. Goes well with many home styles. Extremely durable. | Clay tiles are heavy. Roof must be specially framed to support them. |
Asphalt shingle roofs are the most common type of roof, technically known as composition shingle. Originally, they were made on a cotton mat that was sprayed with asphalt. The older shingles─and there are still a lot of them out there─are very thick and tend to shrink up, curl and crack. They also tend to show their age, often becoming so brittle that you can literally snap them between your fingers.
Newer asphalt shingles, made in the last 15 years or so, use a fiberglass mat which is proving to be much more durable. Not all asphalt shingles are created equal, either, as asphalt marketers are quick to note. They're available in the common three-tab style or varying patterns in what's known as an architectural or dimensional shingle that replicates the great look of a wood shake or slate. Compare warranties too, as some shingles are guaranteed to last longer than others.
Wear and tear on these newer fiberglass-based shingles is a bit more difficult to detect. While they don't curl up and crack like older asphalt shingles, they do tend to split and tear. If you spot these narrow fractures occurring in the shingles, these could be sources for leaks and the shingles should be replaced.
Cleaning Asphalt Shingles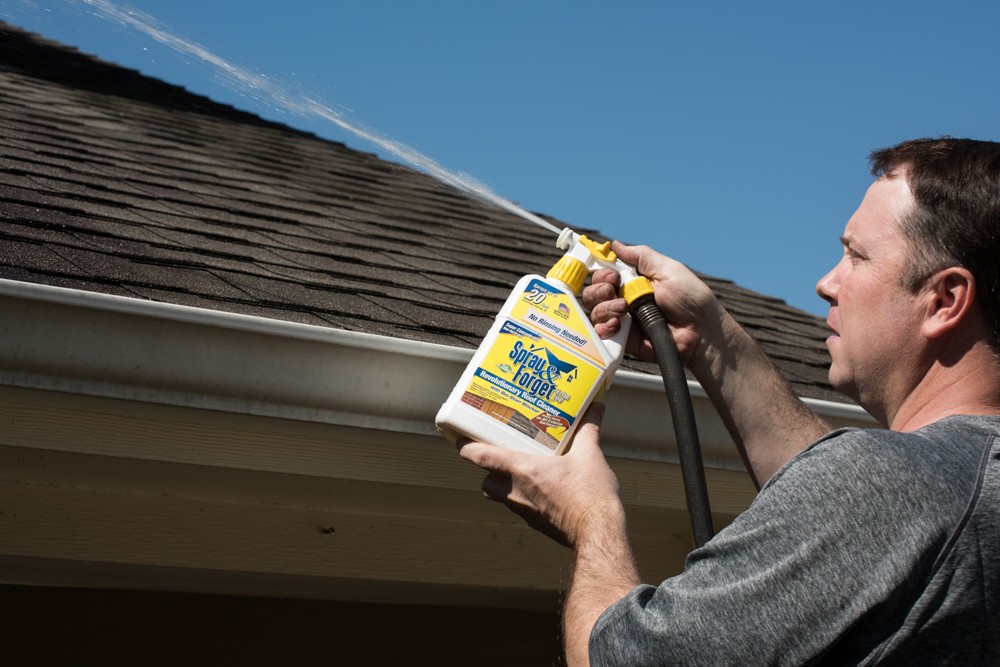 Moss, mold, mildew and algae grow on virtually all roofing materials. If you have a roof that's heavily shaded by overhanging trees, you may be especially at risk of having a green scene on your roof.
Trim back those trees so that the sunlight can shine through and effectively dry up any mold or mildew that previously languished in their shade. Wash the roof with Spray & Forget, a solution made for the purpose. Overtime, the product will eliminate mold, mildew, moss and algae – and stop it from coming back..
Keep it clean by using copper or nickel ridge vents along the peak of the roof. As rainwater hits these ridges, some of the copper or nickel will leach out and act as a mildicide, keeping the roof clean.
Asphalt roll roofing is a common roofing material applied either in single coverage or double coverage. It's usually produced in 36-inch-wide sheets on a roll, which are overlapped about four inches for single coverage or 18 inches for double coverage. Roll roofing is an inexpensive, short-term roofing solution that's not terrifically attractive, but might be perfectly acceptable for such utility buildings as sheds or pole barns.
Metal roofing is our fave, capable of lasting as long as a traditional slate roof and a smart green choice, too. The paints applied to them today reflect sunlight, so the roof itself doesn't get nearly as hot as it would have in the days of yore, cutting down on the heat transmitted to the inside of your home for energy savings of up to 40 percent. Weather conditions can affect a metal roof's lifespan, but it still gas got significant potential for impressive longevity of 50 to 100 years. Metal roofs have one downside, though: they're pricier than other options, by a significant amount.
Natural roofing materials like tile, slate and clay offer longevity, literally millennia as you History Channel fans know. Slate is the trickiest: it may need to be replaced if it starts exfoliating: developing a pink and powdery-looking veneer. Not your problem if you're installing a slate roof—it'll last anywhere from 75 to 100 years.
The environmental cost in terms of transport fuel is a consideration, a non-green aspect to slate. You can offset this by ordering from a local quarry or working with a supplier dealing in just-as-strong salvaged slate. Slate tiles can loosen and slip out, usually because the nails have loosened. Repair requires the skills of a slater, a slate roof specialist who can be hard to find.
Clay is one of the oldest and greenest roofing materials available, offering good looks that mellow beautifully with exposure to the elements. It works well with both contemporary and traditional home styles, and can be made to replicate vintage fabrications for renovations of classic homes.
In lieu of a slate or tile roof, there are a lot of composites shingles available that mimic the look of tile and slate for less expense and a longer lifespan. Rubber tiles made from recycled tires resemble slate roofing, offer ease of installation, strength with lighter weight and, presumably, superb traction.
Synthetic Slate and Shake Shingles vs. the Real Deal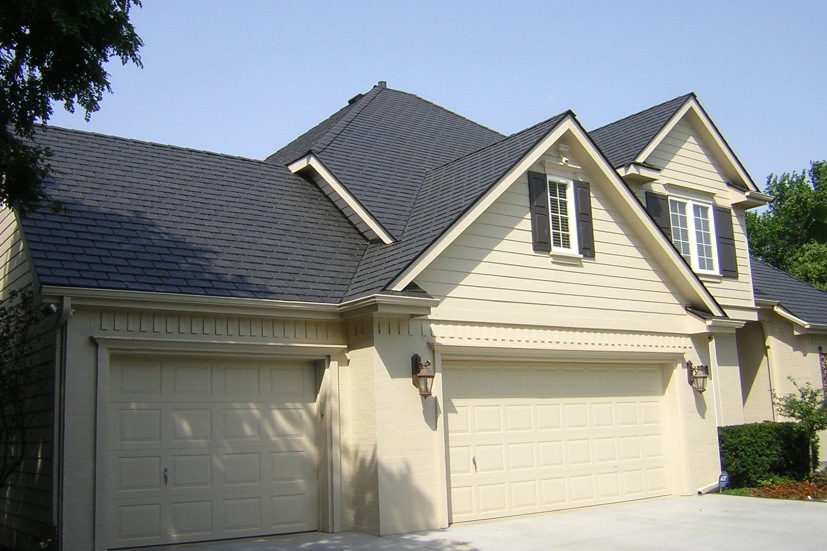 If you'ed shopped for a new roof and learned that there are a lot more choices for shingles these days, you might be interested in exploring these options. Natural slate and shake are out of the question for cost synthetic slate or shake might be a great option.
Synthetic slate and shake shingle─made from engineered polymers─have evolved dramatically. The newer generation looks so good that homeowners, architects and contractors need to squint to tell they're not the real thing. The shingles are high-tech and offer homeowners significant cost and maintenance savings. They look just like real quarried slate or cedar shake and come in a wide variety of colors, thicknesses, blends and widths.
Besides looks and longevity, their real advantage is cost savings. Compared to natural slate, synthetic is at least half the installed cost. Compared to good composite asphalt, the installation costs are two to three times more, but they're warranted to last two or three times longer. Some manufacturers, specialize in synthetics and are so confident of the durability that they offer 50-year warranties.
When shopping synthetics, look for a thickness of at least half an inch. This will deepen shadow lines and convey the look of premium shake or natural stone. Also check for multiple shingle widths, to create a non-repeating, distinctive and varied pattern.
The best synthetic shingles also provide advanced home safety and protection, including the highest fire rating (Class A), the highest impact rating (Class 4), and the highest ratings for wind resistance (110 mph). Actually, these can save homeowners money, too, when it comes to insurance premiums.
Make sure the shingle has been tested by independent organizations like United Laboratories (UL) or the ICC Evaluation Service. Verify that products meet certain standards like the International Building Code® (IBC), International Residential Code® (IRC) and the Uniform Building Code™ (UBC). UL can confirm the fire rating, impact rating and wind resistance.
The bottom line: Don't be afraid to consider synthetic slate and shake shingles. Only your roofer knows for sure.
Asphalt or Clay?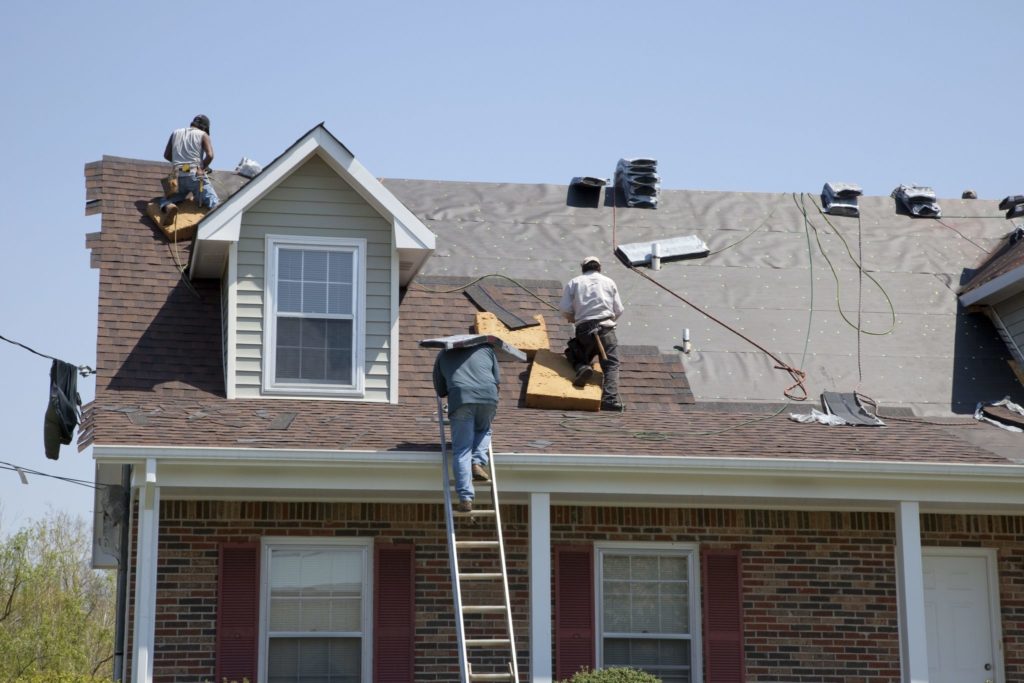 There are a lot of houses that have asphalt shingles where I live, and as I bike ride by, they look an awful lot like slate roofs. You can see shadowing and depth just like the natural roofing material, but is it? If you have a dimensional roof that appears to be made of clay tile but has a weave valley in it, you've got asphalt
Today's manufacturing processes are so sophisticated that you have to pretty much have to be right on top of them to see that they aren't clay. Here's a great tip for these roofs: to complete the illusion, add traditional copper standing seam valleys.
Wood roofing is available either as smoothly hewn shingles cut to specific, regular sizes or irregularly shaped traditional shakes with rough, rustic texture. As with siding, the trade-off is wood's natural, classic look vs. the rigorous upkeep. Local ordinances may also restrict its use due to typically low fire resistance.
Built-up roofing consists of multiple layers of tar and paper. These layers are usually coated with some sort of lightweight stone. In coastal states such as Florida, you'll see seashells used in place of stone. This top layer helps reflect the sun's rays, contributing to the longevity of a built-up roof.
Solar Shingles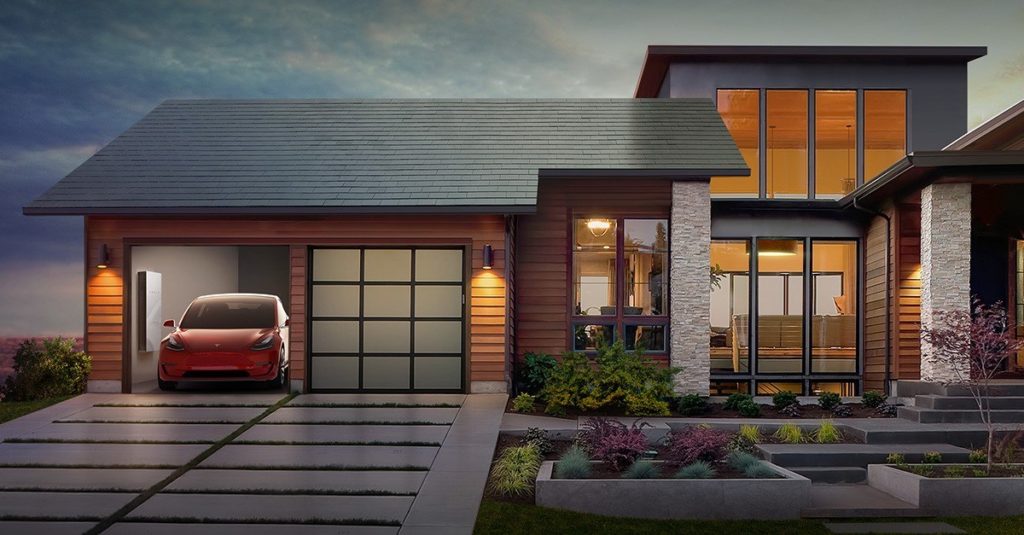 The next step up from installing large solar panels over existing roofing, solar shingles contribute to both energy generation and savings for a home. Solar shingles can be integrated with existing roofing or cover an entire roof, and though current options tend to be on the pricey side, demand is bringing those numbers down for a great value in combination with the tax breaks you can receive.
Why it's important to vent your roof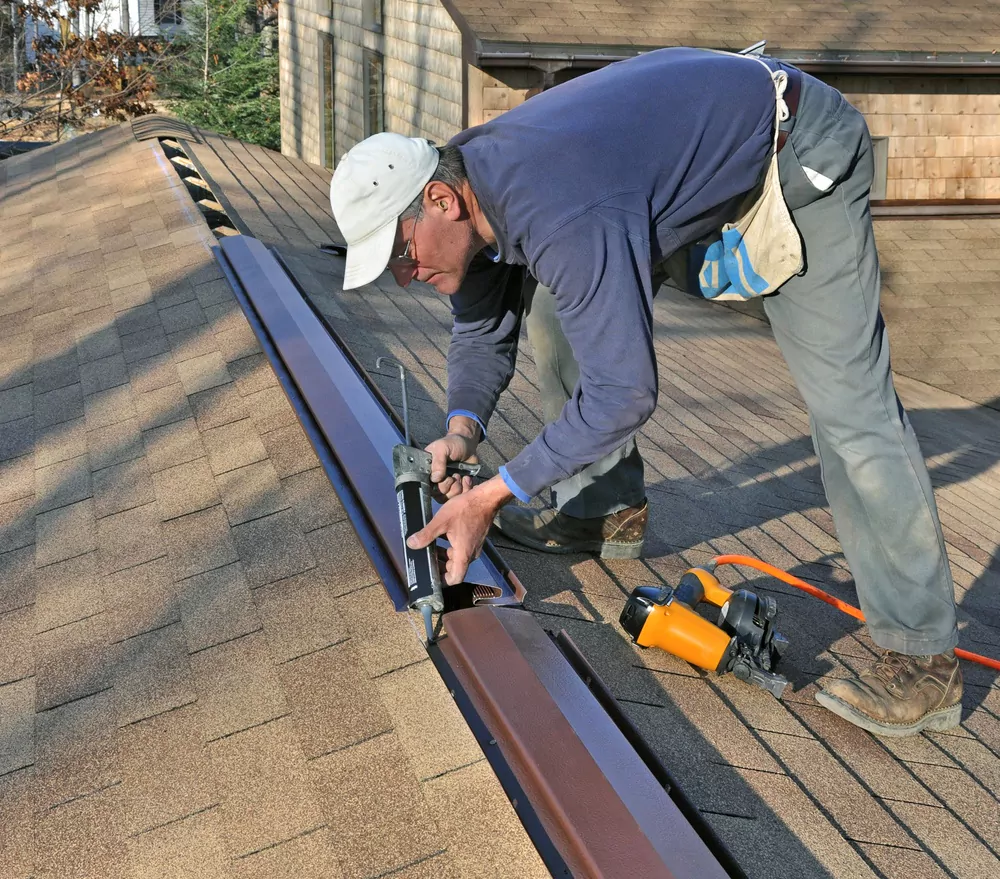 Ventilation helps you keep cool in the house and also makes your house last longer, with attic ventilation in particular helping to prolong the life of your roof. In his years as a professional home inspector, Tom repeatedly saw roofs that had basically cooked away their usual product life expectancy because they were missing that critical element of ventilation.
In our opinion, the best ventilation is a system of continuous ridge and soffit vents. Many homes not built recently have gable vents (located at the peak of the roof), roof vents or those turbine vents that make a show spinning around but actually contribute very little in the ventilation department.
A ridge/soffit system combines a ridge vent that runs along the whole peak of the roof, opening up the top peak end-to-end, with a soffit vent at the underside of the overhang. This works well because as wind blows against your house, the soffit vents are positively pressurized and they let air in. The ridge, which becomes negatively pressurized, lets air out. As the air rides up under the roof sheathing, it takes moisture out in the winter (reducing condensation and making insulation more effective) and heat out in the summer. In a cycle that repeats 24/7/365, it's a very efficient way of cooling your roof.
Attic fans can be helpful, but only if you don't have central AC. Otherwise, it's counterproductive as the fan will suck the cold conditioned air through voids in the walls, potentially raising cooling costs.
Attic Fans vs. Whole House Fans
Attic fans should not be confused with whole-house fans. A whole-house fan is designed to cool the house rather than the attic. It's usually mounted in the center hall or the second floor hallway. It discharges air into the attic where an expanded gable vent directs it outside. Open up a few windows and turn the fan on at bedtime or when you want to get some air moving through the house, and it's very effective at pulling a nice breeze in. Having a whole-house fan allows you to cut down on air conditioner use and trim your cooling bills.