Natural cedar siding is beautiful, but susceptible to water absorption that causes cupping and curling. Grayne is the first-ever engineered polymer replacement for natural cedar shingles and other hard board siding. It is prefinished, instantly delivering the look of aged cedar but eliminating the issue of moisture absorption.
Grayne's 5″ Plain Sawn Shingle is designed after shingles made using the plain sawn cut. In this technique, all of the saw cuts are on parallel in one direction, resulting in a variety of wood grain patterns. In natural cedar, the plain sawn cut is not dimensionally stable. New shingles have a high moisture content, and dry out over time. When the moisture content lowers, the panel will c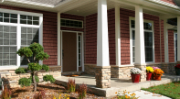 ontract, resulting in cupping and curling.Grayne's one-piece panel design provides permanent straight,clean lines, and the corners will never curl.
The uncompromising beauty of Grayne's 5″ Plain Sawn Shingle offers the charm of natural cedar with none of the maintenance. The shingle's graining patterns create natural depth and shadows for a striking on-house appearance. Grayne's sharp, crisp edges and dual offset installation provide the most authentic look possible, from up close and from the curb. The beauty is in the details, right down to the smallest shadow.
Grayne's natural look is not only striking. It's also one-of-a-kind. Its absolute color technology recreates the color differentiation found only in natural cedar shingles. Its texture is visible from every angle and its natural molded keyways cast shadows that mimic the splendor of real cedar siding. Choose from six colors: Cape Grey, Autumn Shade, Lakeside Blue, Ridge Moss, Aspen Brown and Homestead Red.
Grayne was designed to keep its shape over time, and is easy to clean and maintain. It has a class 1A fire rating and a high-performance, weather-resistant cap. Ten years down the line, it'll look as spectacular as the day it was installed. It's the perfect high-end, low-maintenance solution for any homeowner. For more information, visit www.Grayne.com.