It's that time of year when thoughts turn to the garden, and after months of shoveling snow you might actually be looking forward to trading that shovel in for a rake or a hoe. If that's you, creating a small garden can provide hours of enjoyment without hours of work to maintain it.
As you dream of rolling up your sleeves and getting your hands dirty again, consider the five latest landscaping and small garden trends sweeping the country. There's something for everyone, even if you live in a tiny high-rise apartment in the city. You might discover the perfect new garden project you've been looking for to give that wheelbarrow a much-needed work-out. Where will you find your garden?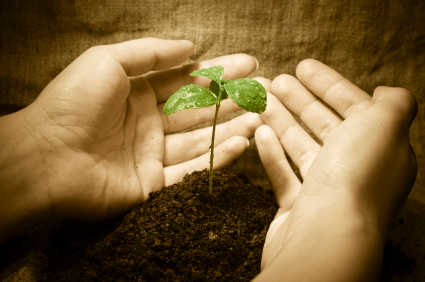 Vertical Wall Gardens are cropping up everywhere, from airport lounges and shopping malls to restaurants and nightclubs! They're also catching on in private homes, and they're a great way to bring the outdoors in. Landscape architect Jamie Durie, host of HGTV's The Outdoor Room with Jamie Durie, suggests that vertical wall gardens are also a wonderful way to soften hard architecture in an urban environment such as a contemporary apartment.
Community Gardens are a real growth industry. People are transforming unused pieces of communal land into gourmet gardens of fresh produce. It's a great way to get to know your neighbors, because everybody takes a turn at tending the garden and everyone reaps the harvest! Community gardens put fresh food on the table, they transform the urban environment for the betterment of everyone's wellbeing and enjoyment, and they bring communities together. What could be better?
Growing Vegetables in the Backyard is hot — even the White House has a veggie garden! As with the community gardens that are springing up everywhere, more and more people are choosing to grow their own veggies and fruits in their backyards. In the process, they're saving money and teaching their kids how to connect with the natural rhythms of Mother Nature. And vegetable gardens don't look like those our grandparents had — edible plants are often integrated into the landscape design rather than grown in rows, as they were traditionally.
Roof Gardens are gaining in popularity, and it's no wonder with everyone's renewed interest in gardens, garden design and gardening. Not only are roof gardens a sustainable way to create urban microclimates and help with insulation and biodiversity, but they're great places to get away. Take a mini-vacation on the roof!
Hanging Pot Plants are back! Remember Grandma's hanging potted plants? Today's are a lot different. These days, there are a myriad of modern, contemporary hanging plant containers for both indoor and outdoor use. Says Jamie Durie of HGTV, "The ones I really like are really simple, organic shapes in ceramic with stainless steel wire for hanging them up."
Whether you live in a house or a high-rise there's a way to engage in the ages-old pleasure of landscaping and gardening. Find your space, and get planting!