A new front door is a great means of adding value to your home without spending a lot of money. The curb appeal resulting from a new front door can add as much as $24,000 to a home's perceived value, according to research commissioned by Therma-Tru Doors.
Once you've selected the new entry or patio door of your dreams, it's time to consult with a competent contractor to get the job done right and make your dreams a reality. Whether you are planning a complete overhaul of your entryway or just a door replacement, a remodeling contractor ensures that the new front door is installed properly for years of energy efficiency, security and style.
Here are some tips from Therma-Tru Doors for selecting a professional remodeling contractor to install your new front door.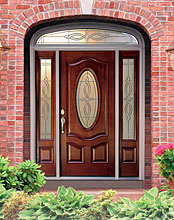 Get recommendations
Check with your friends and neighbors for contractor recommendations. They may have worked with someone who is already familiar with the neighborhood's homes and building codes, and can tell you whether or not they are satisfied with the quality of work that was done. Other options include checking with your local lumberyard or hardware store for a recommendation. The Yellow Pages is another resource, but be sure to get references, as the largest ad might not be the best indicator of quality.
Know what you want in advance
Develop a project description for your home's new front door replacement that outlines specifically what you want done, your desired timing, any needed measurements and architectural requirements, and any specific products you want the contractor to use. Give this project description to each contractor when asking for estimates to ensure that all bids are prepared within the same parameters.
Visualize your new door
When planning a front door replacement, it's sometimes it's hard to visualize what you want and what a new front door style will look like after it's installed. For an easy way to get a sneak peek at what a particular type of door will look like on your home, Therma-Tru has launched an online Door Designer tool that allows you to see how various door designs and decorative glass combinations will look with various home architectural styles. Once the selection has been made, the Door Designer provides a summary of the door components including product style and decorative glass options so you can print out the details and bring them to you local dealer or share them with your contractor.
Interview contractors
Call at least three contractors and set up appointments to interview them. Ask each contractor:
Are you a licensed contractor in this city and state?
What professional or trade organizations do you belong to? (Look for national building organizations such as the National Association of Home Builders.)
What insurance coverage do you have? (Call the insurance company to confirm.)
What is your training and background? (Look for engineering or construction degrees.)
What kinds of projects do you typically do? (Experience with exterior renovation and door installation should be on the list.)
Based on the project detail, what permits will be required?
May I have an itemized estimate that includes all materials, labor and a time frame?
May I have at least three references from customers in the last 12 months?
Check references
Doing a little homework now can save a lot of headaches later, so check references carefully. In addition to asking previous customers about their overall satisfaction with the project, drill down and gather the details. Find out how the contractors handled ordering, delivery and inspection of products used; whether they stayed on schedule; whether they stayed on site to supervise workers; if they alerted the customer to any problems or additional work before moving forward; and if the project came in on budget and within the requested time frame. Finally, simply ask if they would use the contractor again or recommend them to a family member and friends.
Review estimates
Don't accept an estimate for your new front door replacement project that doesn't specify materials, labor, timing, cleanup and project revisions. Good contractors usually have printed job estimating forms. Compare the estimates side by side. Be suspicious of an extremely low bid. Compare the cost of the materials and the exact specifications; some contractors may try to use lower-cost materials. Ask for specific products by name and price, having shopped ahead of time to get an idea of what they should cost. Also check the payment terms, and what process is used if you aren't satisfied with the work after it is completed.
Take a chemistry check
In addition to dotting every i and crossing every t, ask yourself if you feel comfortable working with a particular contractor. Chemistry will be important as the job proceeds, especially if difficult issues arise or if you have to haggle over solutions.

Get it in writing
If you've found a contractor with an acceptable estimate and good references, ask for a written contract and review it in detail. Here's a checklist of what it should contain:
The contractor's name, physical address and phone numbers
A signature section for both the contractor and the homeowner
The current date, starting date, estimated timeline and completion date
The scope of work and estimated cost of work
Product brand names and specifications
A payment schedule and terms
Release of lien clause, dispute resolution, and right of rescission and inspection failure
Permit requirements and costs
Insurance
Change order requirements
If you're suspicious, before you sign anything have an attorney review the contract. If everything looks A-OK, go ahead and sign it and keep copies for your files.
By following these steps, you'll feel more confident that you've found a competent contractor to install your new front door replacement. You'll also enjoy the benefits an upgrade that will add value to your home for years to come.