People thinking about a new front entry door are looking for more than just a good looking front door — they're seeking high performance and security. Fortunately, with the new generation of fiberglass doors from Therma-Tru® they can have both.
Constructed as a complete system of components, Therma-Tru doors are designed and engineered to work together for lasting performance, security and energy efficiency. Multi-point locking systems that engage a series of locks at several places on the frame, impact-rated decorative glass options, plus the adjustable security strike plate that withstands three times the force of a standard strike plate, are key factors in creating Therma-Tru's dependable front entry door system.
Alt=Front Door Security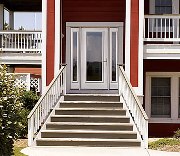 If you are looking for durability, check out the Tru-Defense® Door System. This system maximizes the seal between the door and the frame to help keep out the damaging effects of wind and rain, while increasing energy efficiency. Within this optional upgrade system, the weatherstripping, corner seal pad, door bottom sweep and profiled sill all work together to provide a front entry door system that can withstand severe weather conditions along with day-to-day family activity.
To meet homeowner desires for durability and beauty, Therma-Tru has enhanced its Fiber-Classic® Oak Collection™ to include more high-definition embossments, more aesthetically pleasing designs and a wider variety of decorative glass options. The Collection's natural warmth and rich oak graining provide great value in comparison to wood with the added benefits of fiberglass. In addition, the Fiber-Classic Oak Collection now includes vented sidelites that allow light and fresh air into the home.
Therma-Tru research found that the entry characteristics that homeowners believed would become most important in the future were "safe and secure entryways that resist forced entry" and "insulating the home from changes in outside temperature." The study results also showed that homeowners were eager to obtain the optimum combination for their entryways of security, energy efficiency, performance and aesthetics.
According to a different study conducted by Therma-Tru's market research division, a high percentage of those surveyed say they would pay more for a higher performing door. They view the purchase of the right door as an investment in their homes.
Therma Tru has a chart to help you compare different front entry doors with pros and cons of each, for example steel vs. wood vs. fiberglass. Homeowners interested in researching fiberglass door design options for their own homes can use the free "Door Designer" program and the "My Saved Doors" tool.