Cedar siding is timeless and sophisticated, but it requires meticulous upkeep. What if you could give your home the curb appeal of cedar without the intensive maintenance needs and other pitfalls of wood?
Foundry vinyl cedar siding is beautiful, durable, and virtually indistinguishable from the real thing. Crafted with 72 molds cast from genuine cedar, Foundry's texture variations are so convincing, only you'll know the difference. And because it's nearly maintenance-free, you'll have more time to simply enjoy your home.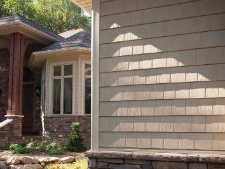 This siding never needs painting or staining. It won't rot, warp, buckle, crack or split, and protects against moisture, insects and pests. Innovative capstock keeps the original color vibrant by shielding it from UV fading. And with a Class A rating for fire-resistance, the highest in the siding industry, Foundry is suitable from coast to coast, including areas prone to brush fires.
Foundry vinyl cedar siding gives you the luxury of choice: eight different shake and shingle profiles in an extensive color spectrum to fit your needs. Create compelling looks ranging from rustic charm to upscale elegance. With eight panel designs per profile, Foundry offers 40-foot coverage, avoiding pattern repetition.
This siding stays flat and level, yet handles curves, turns and even radial applications seamlessly. And unlike competitors' double course siding, Foundry's single-course siding ensures that overlaps and gaps are hidden, providing a smooth and flawless appearance regardless of temperature changes.
Clad your home in unsurpassed beauty and strength with Foundry vinyl cedar siding, backed by a limited lifetime warranty and available from your local contractor or dealer. For more information, visit FoundrySiding.com.