You know those days where the weather just isn't cooperating and it seems that everyone just migrates to the couch? Well, if you're looking to get everybody up and active on those not-so-sunny days, then adding a basement game room may be the answer you're searching for. It can be a place of both comfort and interaction and will be the best meeting place for taking the family game night to the next level.

Address Moisture and Temperature Control Issues
First and foremost, you'll want to make sure your basement is a comfortable place for your friends to gather. This doesn't mean you need to completely finish the basement, but even an unfinished basement needs to be warm and dry enough for comfort. If you don't have major dampness issues, a space heater and dehumidifier may be all you need.
For basement that are damp, leaking or flooded, you'll need to fix that first before proceeded. Fortunately, this is a LOT easier than you may think! Most basement water leaks can be stopped by simple improvements in roof gutters or grading around the foundation perimeter, without having to spend thousands on a basement waterproofing contractor.
Estimated Cost: Basement waterproofing isn't cheap, but it's rarely needed. Expect to spend around $500 or less improving your gutter system to carry water away from the house and to regrade soil so that it slopes away from your foundation. Don't hire a so called "waterproofer" as they always sell expensive systems that are rarely needed, and do so by trying to spread needless fear and panic to get to your wallets!
Get Wired Up to Cover Your Devices' Energy Needs
You'll need extra electrical outlets for lamps, speakers, guests' phone chargers and other creature comforts to make your basement game room feel like a comfortable, dedicated space. Consider installing a mini-fridge or kegerator so you can keep cold drinks flowing as everyone gets down to the game.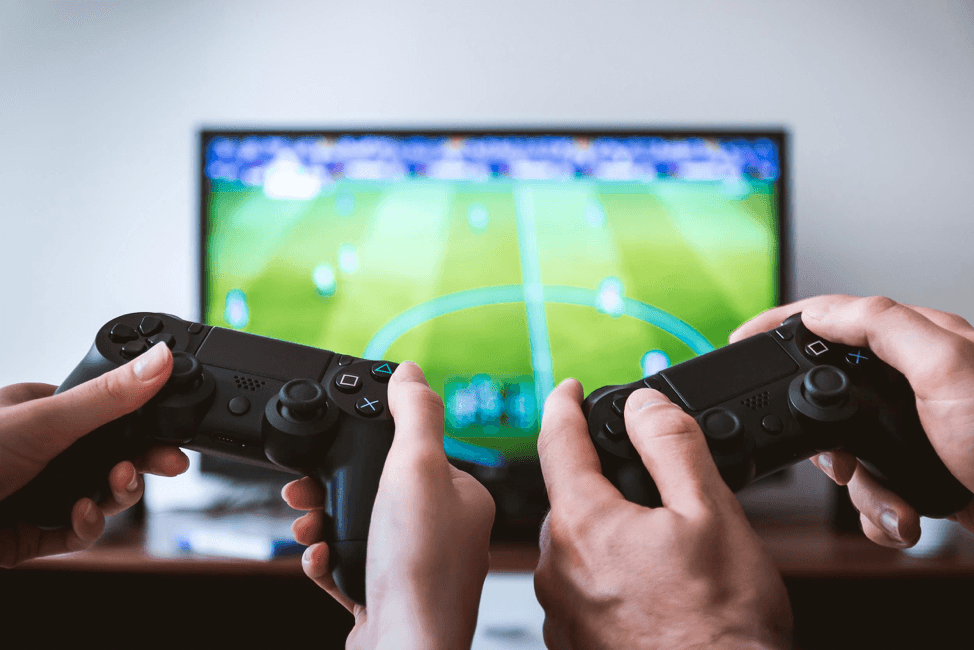 Estimated Cost: Each new electrical outlet should cost you about $200, though the rate your electrician charges may vary if the job is particularly complex. This definitely isn't a DIY job for most people since electrical wiring can be dangerous to work with and improperly executed wiring can be a serious fire hazard, so it's worth it to pony up for the pros.

Paint Your Floors for a Finished Look
In an unfinished basement, you're probably working with concrete floors that don't look too nice and make space feel uncomfortably cavernous. You can accomplish this without finishing the floors by bringing in a large area rug. If you want, taking this a step further and painting your concrete basement floor can be a good way of polishing up your basement game room without going all in on the floors.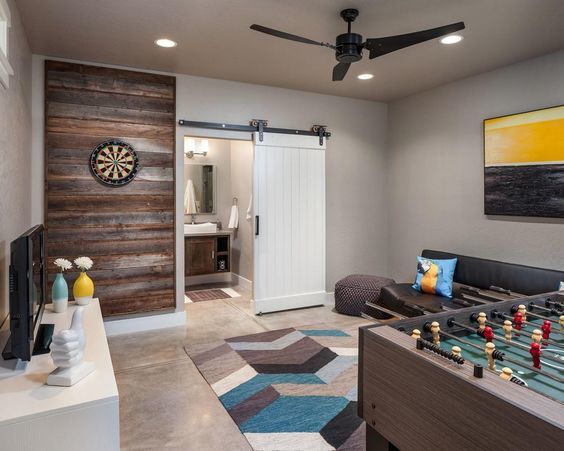 Estimated Cost: Staining and sealing a concrete floor can cost about $400-$800, depending on the size of the job. This may be a basement game room project you can DIY to save some money on labor.
Finish basement walls
Even if your basement walls aren't finished, you can use a few sheets of drywall to create a small accent wall in one part of the room. Drywall sheets aren't that expensive, so if you aren't worried about actually insulating your game room, you could theoretically create a basement game room without having to go all in and finish the entire basement.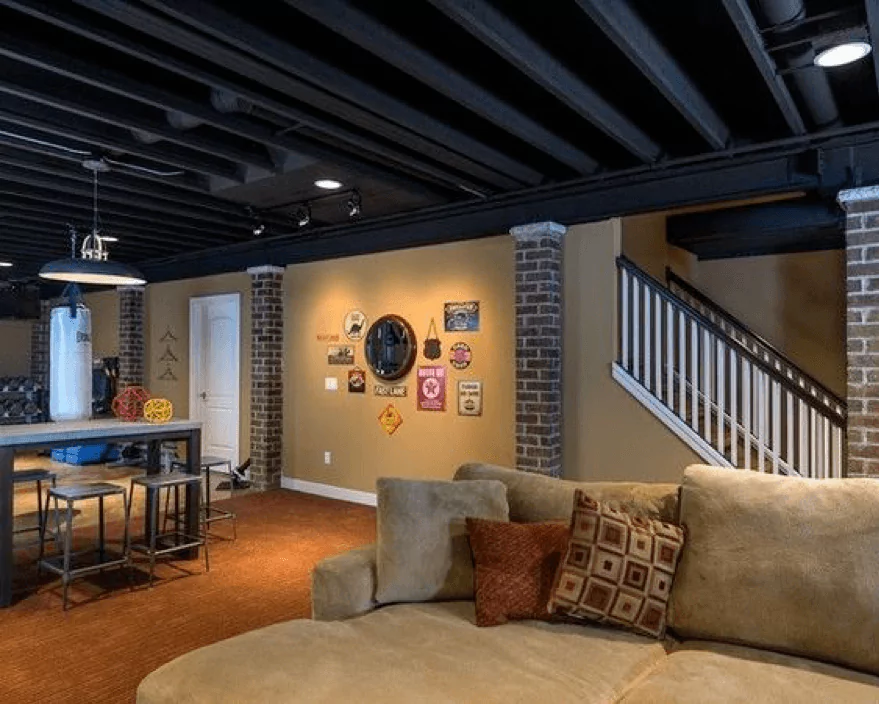 Estimated Cost: Drywall costs about $9 per sheet, and each sheet is about 4 feet wide, so you probably won't need many to create a one, two or three-walled game room nook. The screws and tape you'll need to hang and seal the drywall will cost about $10-$20 depending on how much wall space you want to cover.
Set the Mood With Lighting in Your Basement Game Room
Depending on what games you play, atmospheric dimmed light may be preferable to bright overhead fluorescents. You can use a combination of up-lighting wall sconces and dimmable overhead lighting to create the right mix of brightness and atmospheric dark in your basement game room.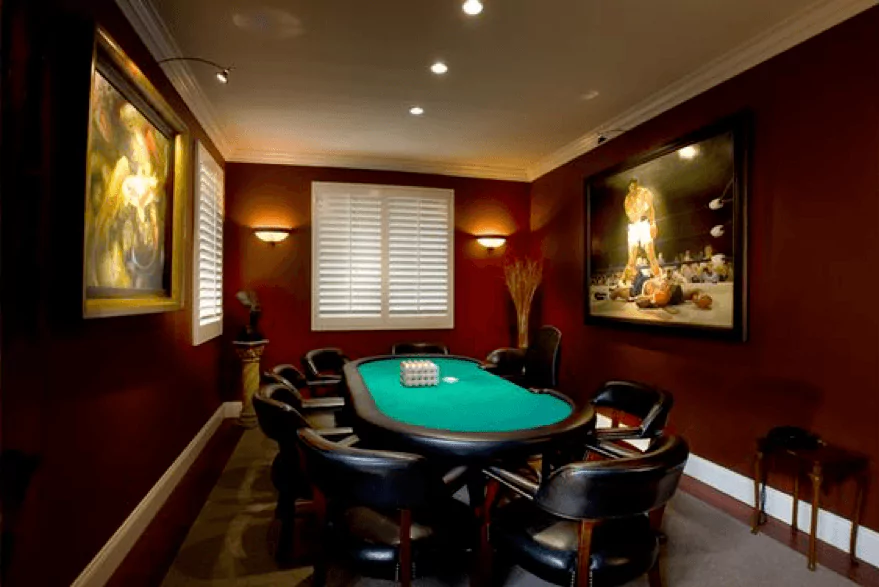 Estimated Cost: The quantity and type of lights you choose will have a big impact on price, but this is an area where you can either go for something affordable or splurge on a big statement piece. For example, simply stylish wall sconces can be about $50 each, while an elegant chandelier can cost upwards of $500.

Recycle Some Old Pieces of Furniture or Create New Ones
You don't need to invest in all-new furniture for your basement game room. An old thrift store couch can get a facelift with a slipcover or even an oversized blanket. You can even get creative and create a board game table by refinishing a circular table with different paint or stain colors to create different zones for each seat. Upcycling vintage materials, like a sewing machine stand, can also be useful for creating fun games like a shuffleboard table.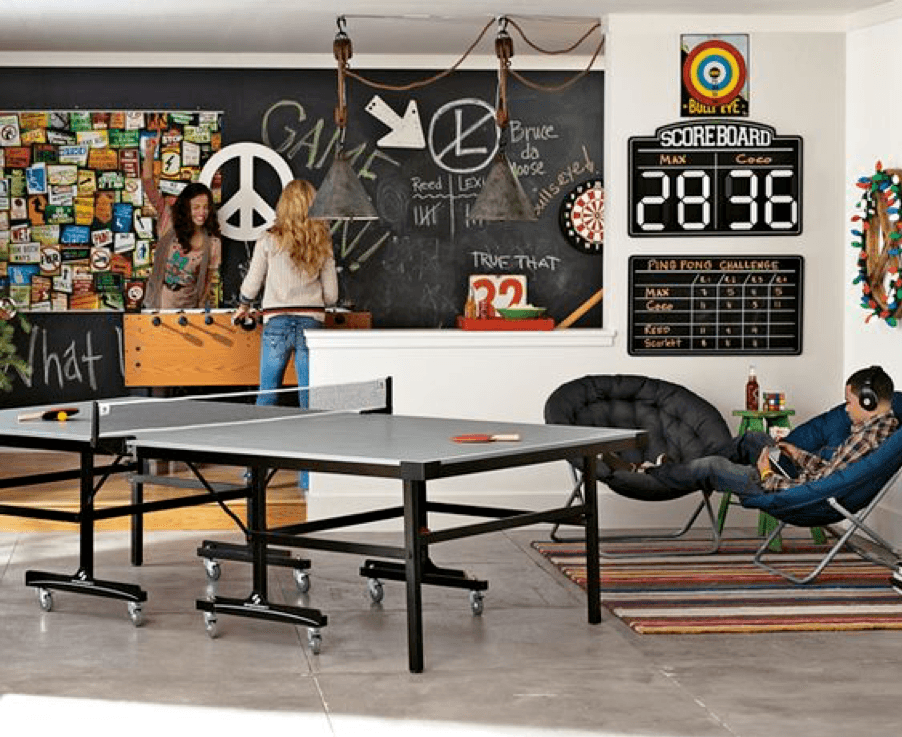 Try some DIY Decor Ideas
Take your DIY efforts a step further and create some basement game room ready decor for the walls. Save up your wine corks to make the ideal backboard for darts. Use vintage street signs and license plates to add fun pops of color on the walls and stairs. Thrift store picture frames can easily become a fun decorative opportunity if you use them to frame up a DIY chalkboard made of chalkboard paint. Little thrift ideas like this can turn the space into a vibrant and fantastical space for fun and games.