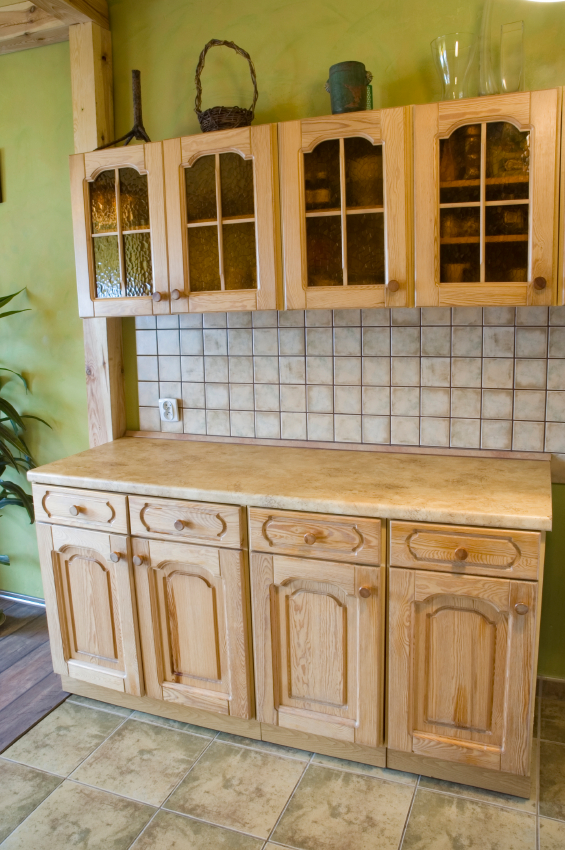 Decorative panels made with fabric or paper-wrapped hardboard make it simple and affordable to change the look of an outdated kitchen or tired piece of furniture. Just cut hardboard panels to cover a portion of a door or drawer front, and dress them up with your favorite fabric of patterned paper to create a stand-out focal point or add texture to your design scheme.
If using a power saw isn't for you, have your local home center cut the hardboard to the panel sizes you need. Just make sure you go on a not-so-busy day at the store for a faster turnaround.
The first step is to figure out what size panels you'll need. Then measure and cut them from the 1/4-inch hardboard. Cut a piece of fabric or paper two inches wider and two inches longer than the pieces of hardboard you're going to cover, and make sure any patterns or motifs you want to display are centered.
Place the fabric or paper face down on your work surface and put the hardboard in the center. Attach the covering to the hardboard using your Arrow T50elite and 1/4-inch staples. Start in the center on one side, working outward and placing staples half an inch or so apart and parallel to the edge of the fabric. Stop 3 inches from each corner. As you work, keep the fabric or paper pulled taut and make sure any linear patterns stay aligned with the edge of the panel.
To finish each corner of the panel, pull the loose corner of the covering onto the back of the hardboard so that it creates a 90 degree corner and attach it with a staple. Then fold the rest of the loose material onto the board and staple it in place, smoothing the material as you work to keep it from bunching up. Keep going until all the corners and edges are fastened in place.
For drawer panels, mark and drill holes on wrapped panels to match the holes on the drawer fronts where you will reattach the hardware. Swap out the staples in your T50elite for 5/8-inch brad nails and attached the wrapped panels to the matching door or drawer fronts by firing a brad nail into each corner at a slight angle. After you secure the corners, fire a brad nail into the middle of each edge of the panel. If the drawer front is really long, use more brad nails as needed.
Now, as long as you're updating a piece of furniture of a whole room with this cool decorative panel project, have fun accessorizing your masterpiece with new hardware. Shop the great range of handles, knobs and pulls available at your local home center—you'll find styles to complement your new door panel, and unexpected shapes and colors for that extra design pop.