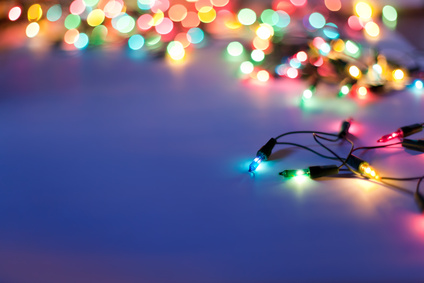 Now that the Thanksgiving feasting is finished, it's beginning to look a lot like Christmas in many neighborhoods. If you're getting ready to put your own home in the holiday spirit, make sure safety is included in your decorating plans. According to the Consumer Product Safety Commission, over 13,000 people were treated for holiday-decorating-related injuries in 2011—a jump from previous years, and a statistic you don't need to contribute to this year!
Prevent holiday mayhem and preserve the beauty, comfort and joy of your décor with the following safety steps.
Reach the right height for decking the halls: Stay comfortably close to your holiday work area and out of the emergency room by using the right gear when hanging decorations. Step stools and utility ladders are great for working at low and medium heights, indoors or out. Extension ladders should be used when you're hanging decorations from the roof or other outdoor zones. Set the ladder on firm, smooth ground close to your work area, and position it 0.3 meters away from the wall for every 1.2 meters of rise.
Add sparkle with UL-tested lights: Look for the Underwriters Laboratories (UL) label when buying new lights or shopping for replacements. It's your assurance that a product has been tested to meet safety requirements for indoor and outdoor usage. As you unpack old and new lighting for this year's displays, carefully check for broken or cracked sockets, frayed or bare wires, and loose connections. Throw away any damaged lighting, and never use electric lights on a metallic tree.
Safely trim the tannenbaum: Speaking of trees, if you're going artificial, make sure the tree is labeled as fire resistant. Although this doesn't mean that the tree won't catch fire, it does indicate that the tree is more resistant to catching fire. Keep ornaments and trimmings with small, removable parts out of the reach of children and pets, and avoid decorations that resemble candy or other foods could be mistaken for the real thing.
Control candles' glow: Candlelight creates a beautiful holiday ambiance, but it can also lead to dangerous, destructive house fires if left unattended. Be sure to extinguish candles before you leave a room, retire for the night, or head out of the house. Battery-powered candles make safety and control even simpler, and now come in a range of sizes and shapes that add a warm, realistic glow to holiday displays.
Source: Build.com