Fall is here, bringing seasonal weather like heavy winds, hail and electrical storms. Once a home power outage hits, your automatic garage door opener will also be impacted. Is your home ready?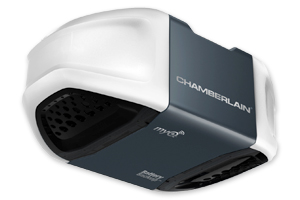 Prepare for fall and winter storms with the new line of smarter, extremely quiet garage door openers from Chamberlain, featuring Battery Backup and MyQ Technology. The built-in Battery Backup system continues to open and close your garage door during power outages, providing 20 additional ups and downs in the first 24 hours for peace of mind and reliable access to your home's main entryway. Chamberlain's MyQ Technology also allows the garage door opener to send commands to and receive commands from other devices like outdoor lights, and soon you can even use your smartphone!
During National Breast Cancer Awareness month, Chamberlain is supporting Susan G. Komen for the Cure by offering its popular Universal Garage Door Remote Clicker in signature pink packaging and donating at least $25,000 to support Susan G. Komen's promise to end breast cancer forever. The Clicker can operate two different garage doors and works with all garage door brands. Purchase this and the Chamberlain Battery Backup Garage Door Opener at www.chamberlain.com and online stores of major home improvement retailers.