Before you replace old flooring, you might want to stop and consider whether it can be saved. The right way to bring new life to old flooring depends on the material. Floors made of vinyl and ceramic tile, wood and natural stone can all be revived.
So, how can tell if you can get more mileage out of your current floor? Knowing what's behind the damage of an existing floor helps in making the call on whether to repair or replace. Cracked tile, for instance, is the result of a weak underlayment. Sure, you can replace a tile here and there, but when you have weak underlayment, the problem isn't going away. Loose carpet is another big deal to fix, requiring re-stretching by a pro with the tools to do it correctly.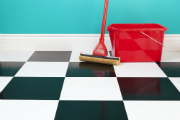 Vinyl seams and tears that collect grime are nuisances, but offer the possibility of being repaired with remnants of the same flooring. (As a last resort, you can always remove a bit from a pantry or other hidden area and use it as a patch). This fix isn't necessarily permanent, but can get you through until you're ready to install new flooring. Vinyl tiles, on the other hand, can be replaced individually. The only issue is that the new tiles rarely match those that have been underfoot for years.
Hardwood floors naturally tend to expand and contract, a phenomenon you can easily detect around the edges. Cover the gap and give your room a decorative edge by adding a shoe molding slightly above your flooring and around its perimeter.
Worn-out wood floors can be refinished, stained with one of the latest color washes, and even embellished with stenciled or hand-painted details before sealing. Natural stone floors can get new life and sheen with a professional polishing.
If you've determined that your floor is truly beyond repair, it's time for replacement. When you're selecting new flooring for your home, think ahead to the number of years and life stages during which you plan to enjoy it. Smooth, stable, slip-resistant surfaces with subtly styled thresholds will offer both easy care and easy access for family members with varied mobility.