Tame your lawn and tackle landscaping overgrowth with the Black & Decker 36V Cordless String Trimmer/Edger. It provides power, versatility and runtime without the weight, noise and hassles of gas-powered equipment.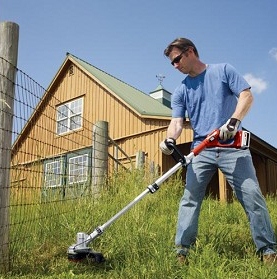 A compact, rechargeable lithium-ion battery provides the 36V Cordless String Trimmer/Edger with dependable power, and its exclusive PowerCommand dial lets you adjust motor power for specific cutting needs. Dial the power up for whacking down thick overgrowth, or dial it down to conserve battery power under normal cutting conditions and extend runtime to trim up to a mile-long strip on a single battery charge. Additional settings provide power and runtime combinations for a variety of other turf conditions, and an accompanying Fast Charger helps you get back to work quickly.
The Black & Decker 36V Cordless String Trimmer/Edger is available at your local home improvement center. Learn more and see this spring helper in action at www.blackanddecker.com.