Living by the beach might put you in a carefree state of mind, but those relaxing sea breezes can do a number on the outside of your home. There's the damage from constant exposure to salty air – not to mention intense heat, direct sun and high winds. And if you have a traditional beach house siding like cedar shake, protecting your home's exterior from the elements takes a lot of work. Suddenly, you're not feeling so carefree anymore!
But what if you could get the look of cedar shake without the need for all the maintenance? The new Beach House Shake from Tando Building Products offers the beauty of wood in a durable material that requires little to no upkeep. Beach House Shake has a protective UV coating and resists all moisture, including rain, snow and sea spray, making it ideal for a coastal home. It's designed to handle ground contact and even below-grade applications.
Stunningly realistic cedar shake look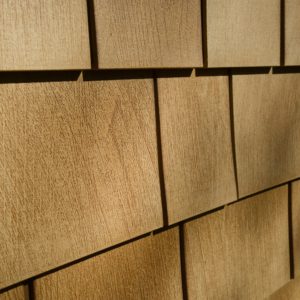 But while Tando's Beach House Shake stands up to Mother Nature, it also looks completely natural! It boasts the highest level of realism and an attention to detail that will win over any wood purist. The proprietary technology behind Beach House Shake delivers a stunningly authentic look, right down to the subtleties of grains and saw cuts, natural keyways and subtle tone variations.
Beach House Shake has a traditional five-inch reveal and comes in a gorgeous color called Sandcastle that replicates the look of white cedar – perfect for seaside living. This superior exterior cladding will keep on looking as fresh as when it was installed. It's also backed by the most comprehensive warranty in the industry.
Easy and fast one-person installation
Tando Building Products created Beach House Shake with the installer in mind. Lightweight panels make one-person installation fast while also reducing installation costs. With Beach House Shake, there are no special tools or fastener systems needed. Just a hammer or nail gun will do the trick.
So if you want to spend less time worrying about your home's exterior and more time simply enjoying your shore lifestyle, Beach House Shake from Tando is a brilliant option. It offers low-maintenance durability without sacrificing the natural beauty of cedar. Beach House Shake is available from a limited number of lumber dealers in the Northeast. For more information, call 844-MY-TANDO or visit www.tandobp.com.