If you have a back door or patio door with a full or half window, you have a great way to see what's happening on the other side of it. But without blinds or another type of window covering, you also are subjected to heat, sun and prying eyes, not to mention safety hazards. Add-on door glass blinds from ODL take care of all of those problems and then some.
Traditional blinds and shades can be tough to clean, cumbersome to install and can even carry safety risks. According to a recent article in Consumer Reports, blinds and shades with cords are among the most recalled products in the nation because of choking hazard risks for small children.
Created for easy do-it-yourself installation, ODL's enclosed Add-on Blinds and Shades allow homeowners to control privacy, cut cleaning time and increase energy efficiency, while the cordless design protects the safety of the family. Both ODL Add-on Blinds and Shades eliminate the need for cords by enclosing the treatments in glass and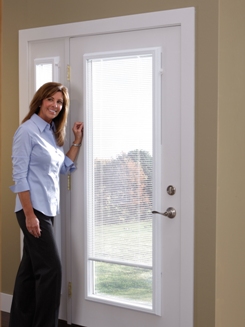 using an innovative cordless LightTouch®control system. This system allows users to raise, lower and tilt the enclosed blinds and shades at the touch of a finger. This control also allows adjustment of the level of natural light or shade, helping to customize privacy options in a room and regulate room temperature, thereby increasing energy efficiency.
ODL Add-On Blinds and Shades can be installed on doors with raised frames or flush frames around doorglass and, once secured, do not swing when the door is opened or closed. They are available in white with a white frame. They are ready to install and don't need to be painted or stained. But they can be painted or stained according to homeowner preference. Available sizes for both blinds and shades include the standard half- and full-door sizes as well as half-sidelight and full-sidelight. ODL Add-on Blinds and Shades also fit the larger glass sizes of flush fiberglass and steel patio doors, and feature a five-year warranty.
ODL Add-on Blinds and Shades are available at major home improvement and window treatment retailers. For more information, visit www.ODL.com or call 866-635-4968.