If you have a pet owner, you know that this time of year can be especially hard on our four-legged friends. So, as you gear up the rest of the family for winter, make sure your dog has warmth and protection, too.
The first thing you should get? A good coat. Even the most outdoor-loving dog can feel the harshness of cold and damp weather, so choose a warm but lightweight coat that'll stand up to any conditions and includes reflective detailing for safety during nighttime strolls.
If you notice your dog lifting his paws and whining during a walk, the ground or pavement may be making his feet painfully c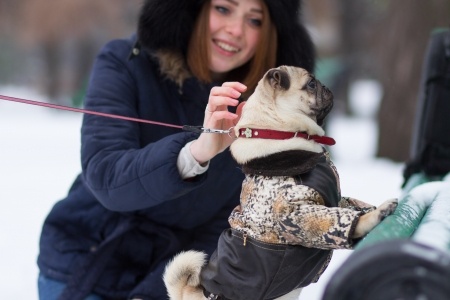 old. Plus, sidewalk salt and chemical ice melter can be irritating and even dangerous to pets. Buy your dog booties that'll protect paws and allow for longer romps in the snow. Booties also provide extra traction on icy surfaces, and are machine washable for easy care throughout the season.
After time outdoors, make sure your dog is warm indoors. If you tend to turn down household heat overnight, or your dog slumbers in an unheated space like the garage, consider investing in a heated pet bed. Pamper and protect with styles that have built-in electrical heating pads or those with stuffing that can be warmed in the microwave for a head-start on coziness.