If you're looking for a ladder that provides comfort, security and reach, look no further than Werner's new PDFS103 Podium Ladder. Ideal for reaching 9 ft., this ladder offers the same reach height as a 5 ft. stepladder and is perfect for working at fixed heights.
The PDFS103 offers an extra-large platform with toe guard, ensuring maximum comfort. You'll feel like you're standing on the ground. It also provides a 4X greater work zone than a typical stepladder, allowing you to face any direction so you can accomplish more without having to reposition your ladder.
The new podium features a HolsterTop PRO extended guardr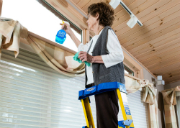 ail, giving you an extra point of contact and securely and conveniently organizing tools and accessories at the top of the ladder. The newly designed Edge360 bracing system increases the size of the ladder foot pad, braces the first step and provides protection from every angle.
This fiberglass ladder also features double riveted, slip-resistant TRACTION-TRED steps that let you stand and climb with confidence. All steps and the two rear horizontals are knee braced, and backup plates reinforce all top connectors. Visit www.wernerpodium.com for more information about the PDFS103 Podium Ladder, as well as information on Werner's full line of climbing equipment.