There's good news for consumers when it comes to clean drinking water: Water filter manufacturers are producing products that remove impurities, not just improve taste and appearance. Plus filters that cost as little as $30 can replace costly bottled water and provide cleaner, better-tasting water, according to Consumer Reports latest water filter tests.
Consumer Reports tests of 38 water filters uncovered 6 CR Best Buys and 5 Recommended carafe, faucet, countertop, reverse osmosis, and undersink models.
In a recent year, eight percent of public of water systems received health violations that affected more than 23 million people. A violation doesn't necessarily mean immediate health risk, since regulations are often based on long-term health effects. However, last October, the Environmental Protection Agency (EPA) concluded that "many of the nation's waters are not meeting water quality standards, and the threat to drinking water sources is growing."
For its tests, Consumer Reports spiked water with lead and chloroform (a surrogate for organic compounds like atrazine, and benzene and for bad taste) to test 38 models. While many filters did the job, some removed less of each contaminant than promised, and even the best can be overwhelmed by surges in contaminants. Here are the details:
New water filters catch more and clog less. In Consumer Reports' last test, carafes that filtered best also clogged most quickly, but this time around, top-rated models removed contaminants effectively without sacrificing cartridge life or flow rate.
Pricier doesn't mean better. Consumer Reports found that the $415 Everpure undersink filter was outperformed by models that cost half as much, because of its clogging and inferior flow rate. Plus, the cost of replacement filters must be factored in to purchasing decision. For example, the Zero Water Z-Pitcher ($35) is the priciest carafe to maintain, despite its low initial cost.
Refrigerators with water dispensers with built-in filtration are fine at improving taste, but past tests have shown some systems are so-so at removing impurities. Plus, replacement cartridges are costly. Consumer Reports suggests bypassing the appliance's filter by installing an undersink filter to the refrigerator's water supply line.
How to choose a water filtration method for your home
Consumer Reports recommends matching the filter to the problem. Some improve only taste and clarity; others also reduce impurities.
First, check the water. Consumers who pay a water bill should be mailed an annual Consumer Confidence Report (CCR), stating where the water comes from and what contaminants were found in it during the last year.
To find out exactly what's coming out of the tap, or if dealing with private well water, it's best to
test the drinking water
. State-certified testing labs can be found through the EPA's Safe Drinking Water Hotline (800-426-4791) or online at
www.epa.gov/safewater/labs
.
A complete screening could cost as much as $4,000, so use the CCR as a guide. However a reputable lab will help narrow the list, depending on where the water source is located. The EPA recommends annual testing for well water by a state-certified lab. Re-test after a filter has been installed to confirm that the water is safe. Lead tests should always be done. Test for coliform for private wells near septic systems.
Based on the CCR or water test, choose a filter that is certified by the National Sanitation Foundation to reduce the contaminants found. Some filters remove just two or three contaminants; some target a dozen or more. But sporadic spikes in contaminants can exceed NSF thresholds, so don't assume a filter will make water safe from every threat.
Water Filter Options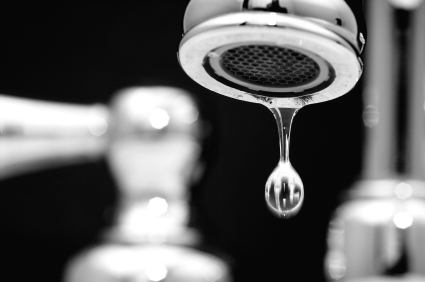 All water filters are better for the environment than bottled water because they reduce shipping and packaging. Brita and Zero Water have launched take-back recycling programs for used cartridges.
Consumers should weigh the various features of the filters. Models with a filter-life indicator warn when it's time to change cartridges, a benefit since overloaded filters can dump contaminants into filtered water. Consumer Reports has outlined the five main types of filters:
Carafe: Carafes tend to be inexpensive and don't require installation; however they are not suited for households requiring more than a couple of gallons of water a day. Filter life is relatively short. Carafe models cost $20 to $40 plus $40 to $100 per year for additional filters. The Clear2 0 CWS100A ($30) carafe filter is a CR Best Buy and is excellent at removing lead and chloroform, while the Brita Smart Pitcher 0B39/42632 ($32) offers superior clog resistance but isn't claimed to remove organics.
Faucet-mounted: These filters can be easily installed and make it easy to switch between filtered and unfiltered water. But they can't be used with most pull-down or spray faucets and they tend to have a slow flow rate. Cost ranges from $15 to $35, plus $30 to $100 per year in replacement filters. Consumer Reports Recommends the Culligan FM-15A ($15) and the Pur Vertical FM-3700 ($25), which has a filter-life indicator.
Countertop: Countertop models are good at filtering large volumes of water without any plumbing work, however they can add to countertop clutter and can't be used with most spray or pull-down faucets. Prices vary from $50 up to $300, plus $50 to $100 per year in replacement filters. The Crystal Quest CQE-CT-00109 ($140) has fast flow but doesn't catch impurities as well as other countertop models. The Aquasana AQ-4000 ($100) is excellent at removing lead and chloroform.
Undersink: Undersink models require plumbing, sink, or countertop changes but can filter large volumes of water without cluttering the countertop. Price ranges from $100 to $550, plus $50 to $150 per year in replacement filters. Consumer Reports Recommends the Omni CBF-3 ($115), an inexpensive model that is fast-flowing, but replacement filters are pricey. The Culligan Preferred Series 350 ($145) has one of the longest-lasting filters, and the Whirlpool Gold WHED20 (Lowe's, $130), a CR Best Buy, offers top value and very good clog resistance.
Reverse-osmosis: These filters remove the widest range of contaminants, including arsenic, but they require plumbing modifications and periodic sanitizing with bleach. These models also waste 3 to 5 gallons of water for every gallon filtered and some are slow. Consumer should expect to pay anywhere from $150 to $900, plus $100 to $200 per year in filters or professional servicing. The Kenmore Elite 38556 ($300) costs more than other models Consumer Reports tested, but has a 4-gallon storage tank—more than double the size of the Whirlpool Gold WHER25 (Lowe's, $150), a CR Best Buy.
For more on how all the filters stacked up and more information on water filter safety, visit
www.ConsumerReports.org
.