Tom Kraeutler:
This is The Money Pit Home Improvement Radio Show, reporting from Greenbuild 2015 in Washington DC.
VELUX
is a brand that's been around for many, many years. In fact, it's the brand of skylights I've used in my own home. They're innovating this year in a very big way. They've got a new product out that is a fresh air solar-powered skylight. With me to talk about that is Bill Charlton from VELUX. Bill, tell me about this product.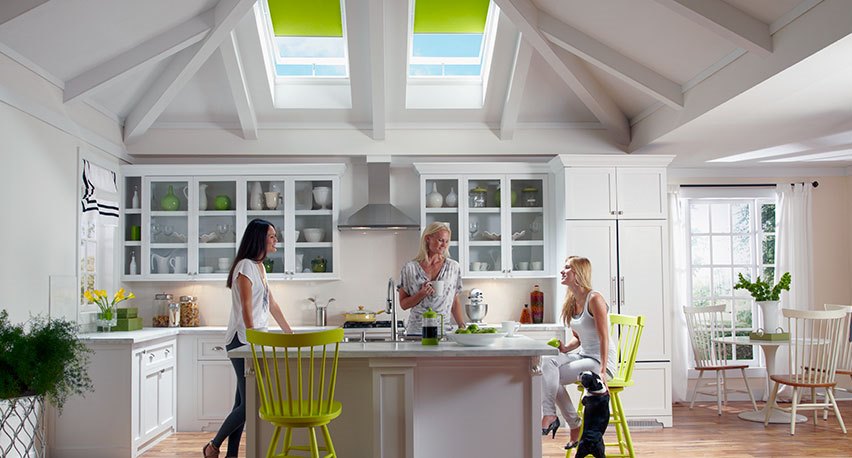 Bill Charlton:
Sure. This product here, as you mentioned, is our
solar-powered fresh air skylight.
A lot of people would like to have an opening skylight. A lot of people don't like the inconvenience of having a pole to open a skylight. This gives you the opportunity to use a remote control, but instead of having wires to power this product, you're going to have a solar-powered panel at the bottom that will charge a series of batteries in the operator. Then with the remote, you'll be able to open and close the skylight when you want. If you leave the house and you forget to close the skylight, if a thunderstorm pops up, you don't have to worry. There's a rain sensor that's built into this solar-powered skylight that will close automatically when it gets wet.
Tom Kraeutler:
That's a very cool idea because I've always loved the idea of having motorized skylights, but there's a whole backend to that with all of the wiring that had to be done to make that happen. In the retrofit situation, it's virtually impossible. You're not going to be able to run those wires through finished ceilings that are covered with drywall and stuff with insulation. This kind of makes all that go away.
Bill Charlton:
Absolutely. In those cases, a lot of people often not to go with the skylight that ventilated. They would just go with the fixed skylight and they miss that on the opportunity to ventilate that stale air or hot air in the summertime that the air-conditioning would constantly cool instead of cracking the skylight open, allowing that hot air to escape, and now, you're not constantly cooling that hot air. They would really miss out on that opportunity because of the wiring issue.
Tom Kraeutler:
Now, one of the things you have to manage with skylights is solar gain because, let's face it, on the hottest days of the year, these skylights, you're going to let through more light than the roof does and that can drive up your cooling cost. You guys have actually built in a solar-powered shade that helps with that. How does that work in the system?
Bill Charlton:
Yeah. The solar-powered shade is just similar to the window itself. Has a solar cell in it that will store charge in the battery. You can operate that actually of the same remote that you operate the window off of. You can open and close that shade. We have light-filtering shades or room-darkening shades, and they can block up to or increase the value, the energy efficiency by 40%.
Tom Kraeutler:
Now, what if the battery is running out of power? How do we make sure it has just enough power to know that and shut the skylight before that happens?
Bill Charlton:
That's a great question. There is a fail-safe built in that if it does reach a certain level, it will automatically close the skylight and then it will not allow it to open again. With that being said, this is charging every day. Even cloudy days, you don't need direct sunlight. Ambient light will charge the solar panel.
Tom Kraeutler:
Okay. Now, the big question, what does this cost?
Bill Charlton:
All right, great question. This does cost a little more than a venting skylight that you would use a pole for. It's probably 12 to $1,500. However, there is a solar tax credit that comes with this. It's not the ENERGY STAR credit, but a credit that gives you 30% on the product and the installation cost to put it in. That could be upwards of 7 to $800 which now brings the solar skylight cost down below the cost of the manual skylight.
Tom Kraeutler:
Plus, you want to mention that this has a 10-year warranty that actually covers installation as well. Bill, where can our listeners go for more information?
Tom Kraeutler:
That's VELUXUSA.com, V-E-L-U-X-U-S-A.com. Bill Charlton and thank you for stopping by The Money Pit.
Bill Charlton:
All right. Thank you.