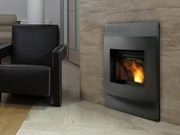 Make sure your fireplace is in tip-top shape this winter to keep your home and family safe. Follow these tips for thorough seasonal fireplace maintenance:
– Check your flue, damper and firebox for creosote build-up. Creosote is highly combustible and can lead to a dangerous chimney fire.
– Have chimney caps installed the next time you have your chimney cleaned. Chimney caps keep squirrels, birds and other unwanted visitors out of your chimney. (Fortunately, they're no deterrent to Santa.)
– Don't store firewood directly against your house. Mice and termites like to hang out on wood piles, and you don't want them finding a way into your home.

To find a certified chimney sweep, visit the Chimney Safety Institute of America.