Spring is a great time to spruce-up your home and leave behind all of winter's woes. The harsh winter weather can take a toll on your home, and green grass and long sunny days means the home improvement season can begin in earnest. Check out these brilliant new products to add style, efficiency and value to your abode this spring.
Brush on a paint finish that's truly green
If painting is on your spring to-do list, ensure that the endeavor is healthy for you, your family and the environment with Mythic Paint. Mythic is the first and only high-performance paint guaranteeing zero VOCs (volatile organic compounds) and zero carcinogens, with virtually no odor. Available in 1,232 colors, with both interior and exterior formulations, Mythic's latex formulations have equal or better application properties with three to seven times the durability of traditional paints (independent scrub tests by a leading paint-testing facility have proven their out performance). They can also be mixed to any color using Mythic's toxin-free coloring system and MatchRite Color Matching software.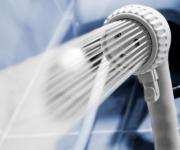 Save water in style
Continuing on a green home improvement products theme, update both your bathroom's style and water efficiency with fixtures from Moen's new Rothbury collection. Rothbury faucets incorporate a water-saving aerator which allows water to flow at 1.5 gallons per minute (gpm) versus the traditional aerator flow rate of 2.2 gpm. It's a difference you won't feel in water pressure or flow when you use these smart, beautiful fixtures, but one you'll definitely see the difference in your shrinking water bill.
Taking cues from the popular cottage style of decorating with its blend of vintage inspiration and classic masculine lines, Rothbury fixtures feature low-arc spouts and elegantly styled handles and hubs. The collection includes a two-handle centerset faucet, two-handle widespread faucet, a suite of coordinating accessories, and tub/shower, shower-only and valve-only trim options to be used with Moen's Posi-Temp and Moentrol shower valves. And in case you need to upgrade the style of your bath later, Moen's M*PACT valve system makes it easy and quick; just unscrew the handles and spout, lift them out, and replace them with the new style. Changing the shower trim is easy, too.
Rothbury fixtures are available in Chrome, LifeShine Brushed Nickel, Antique Bronze and Oil Rubbed Bronze, and you can shop the options and accessories with a visit to Moen.
Sweep in a solid footing
Installing a paver patio is a great home improvement project that will step up the value and appearance of your home, and Quikrete's PowerLoc Jointing Sand ensures solid, sure-footed results. This polymer-modified, graded sand is specially designed to be swept into the paving stone joints of interlocking pavers, bricks, patio blocks and concrete slabs. Once it's placed and dampened, non-staining PowerLoc hardens to lock pavers in place, resulting in a surface that's resistant to erosion, weed growth and insects.
Depending on the joint design and pavers you're using, a 50-pound bag of PowerLoc can cover anywhere from 50 to 55 square feet of tumbled pavers, to 85 to 90 square feet of regular pavers. Check out Quikrete's PowerLoc page for a Jointing Sand Calculator and more information.
Make a luxurious entry
Curb appeal begins at the front door, and Pella is introducing luxurious wood entry systems to complement your home and inspire the envy of your neighbors. Expertly crafted from Mahogany, Rustic Walnut, American White Oak and Cherry, these beautiful doors possess quality construction and distinctive details that reflect the look and feel of fine furniture. The collection also includes dramatic new styles, sizes and shapes, and decorative insulated glass options accented by metal Caning and hardware in a variety of tones.
In addition to new wood entries, Pella offers stylishly designed fiberglass and steel entry door products to coordinate with a range of home designs for all your spring home improvement projects and more.